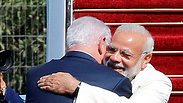 Modi hugs Netanyahu
Photo: Reuters
In historic visit, India's PM says it's an 'honor' to be in Israel
Arriving in Israel for a first ever visit by any Indian premier to further cement ties between Israel and India, Narendra Modi receives warm welcome, says in Hebrew 'I'm happy to be here', laud's PM Netanyahu's fallen brother Yoni as a 'hero,' and declares Israel 'one of India's most important partners'; Netanyahu welcomes Modi, 'my friend ... with open arms.'
Indian Prime Minister Narendra Modi told members of an Israeli and Indian delegation Tuesday afternoon that his country considers Israel to be "one of its most important partners." His remarks were made immediately after landing in Israel for an historic three-day visit, during which he will sign seven bilateral agreements with Israel.

Friendship between the two countries was manifest as Modi descended the stairs of his plane and was enthusiastically greeted by Prime Minister Benjamin Netanyahu with heartfelt hug.

Welcome ceremony for PM Modi (צילום לע"מ)

Speaking at the welcome ceremony, Netanyahu said that Israel welcomed Modi "with open arms. We love India. We admire your culture, we admire your history, your democracy, your commitment to progress.

"We view you as kindred spirits in our common quest to provide a better future for our peoples and for our world," Netanyahu added before recalling the first ever meeting that took place between him and his Indian counterpart at the United Nations three years ago.

"We agreed to break down the remaining walls between India and Israel. We shook each other's hands and we agreed to forge a historic partnership for progress. We then met again in Paris and since then we've spoken many times on the phone. But I remember my friend what you said in that first meeting. You said that when it comes to India-Israel's relations, the sky is the limit," Netanyahu said.

Referring to Modi for a second time as 'my friend,' the Israeli premier signalled his ambitions to surpass any limit, citing joint projects that had already gone above and beyond the skies.

"The sky isn't the limit because today even our space programs are working together to achieve even greater heights. The ties between our talented innovative peoples is natural. It's so natural that we could ask what took so long for them to blossom?," Netanyahu quipped. The answer, he said, was that "it took a meeting of minds and hearts, it took a commitment of our governments."

India established diplomatic ties with Israel 25 years ago, despite the fact that its independence was declared only year before Israel's.

Delivering his remarks after Netanyahu, Modi opened by saying in Hebrew, "Shalom, I am happy to be here" adding that it was a "special honor for me to be the first Indian prime minister ever to make the revolutionary visit to Israel."

Thanking Netanyahu for the invitation and warm welcome, Modi also mentioned the prime minister's brother, Yoni Netanyahu, who fell in the heroic raid on Entebbe. "Your hero is an inspiration for our young generations," he said.

"India is a young nation, in which talented youth is the driving force. In a world where rapid progress and development is taking place, India considers Israel as one of its most important partners," Modi declared.

He also acknowledged "the need to rely on scientific innovation to advance the challenges of both of us. We are also cooperating against shared threats like terror."

Later in the day, the two leaders visited Yad Vashem and toured the Hall of Names and the Children's Memorial and participated in a memorial ceremony in the Hall of Remembrance

They also visited Danziger Flower Farm in Mishmar Hashiva. There, Netanyahu described the Volcani Institute as the most advanced agricultural research institute in the world.

"I'd say none is more advanced. That's the way I would say it to be sufficiently humble. But, these people are doing remarkable things and you can increase the productivity of crops, of irrigation, of soil, livestock with the kind of groundbreaking research that they're doing. One thing you haven't resolved is how to bring down the temperature in a greenhouse. It's too costly," he said.