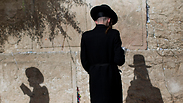 UNESCO denies once more Israeli sovereignty in Jerusalem
Convening in Krakow, UN's cultural committee approves proposal submitted by Arab states rejecting Israeli sovereignty over Jerusalem and condemning it for conducting excavations in the Old City; despite loss, Israel's UNESCO envoy hails vote as a step in the right direction, arguing Israel forced a softened version and managed and gain a 'moral majority.'
A committee of the United Nations Education, Science and Culture Organization (UNESCO) convened in Krakow Tuesday where it approved the wording of a proposed resolution denying that Israel is the sovereign power over Jerusalem and condemning it for conducting archeological excavations in the Old City.

The proposal was submitted to the UN body's Cultural Committee by Arab states who originally presented a much harsher version which was formulated together with the Palestinians. However, pressure exerted by Israel forced the hostile proposal to be watered down.

Ten states supported the proposal, among them Azerbaijan, Indonesia, Lebanon, Tunisia, Kazakhstan, Kuwait, Turkey, Vietnam, Zimbabwe and Cuba. Three voted against the proposal, including The Philippines, Jamaica and Burkina Faso.

Another eight countries from several continents abstained. They included, Angola, Croatia, Finland, Peru, Poland, Portugal, South Korea and Tanzania.

Israel's Ambassador to UNESCO, Carmel Shama-Hacohen said that two hours before the vote, the Arab states were convinced that they had a consensus on the phrasing of the resolution, but Israeli pressure ultimately proved heavy enough to sabotage their efforts.

According to Shama-Hacohen, despite the significant softening of the text, more nations are identifying with Israel who are no longer prepared to accept what Israel has often considered unquestionable hounding of the Jewish state, even if the resolutions have been diluted.

He also pointed out that for the first time, Israel gained what he described as a moral majority in the body's cultural committee since eleven countries out of 21 either opposed the proposal or abstained.

The vote came just days after US Ambassador to the UN Nikki Haley sent a letter to the Director-General of UNESCO urging her to oppose a resolution to be voted on by the body next week which would recognize Hebron's Old City—and with it the Cave of the Patriarchs—as a Palestinian World Heritage Site In Danger.

In another effort to stymie the resolution, a group of 12 Holocaust survivors, who were born in Poland and now live in Israel, sent an urgent letter to the Polish foreign minister, asking him to call on his government to thwart the UNESCO resolution seeking to declare Hebron's Old City as a Palestinian World Heritage Site.