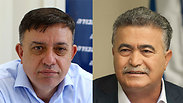 Avi Gabbay (L) and Amir Peretz
Photo: Yoav Dudkevitch and Abigail Uzi
Peretz and Gabbay vie for Labor party leadership as Herzog is cast aside
After some 52,000 party members take to the polls to decide who has what it takes to lead the Labor party to victory in the next general election, Isaac Herzog suffers resounding defeat as Amir Peretz and Avi Gabbay enter second round of primaries; voters hope fresh leadership will break the old protracted electoral cycle that has left them in opposition since 2001.
Amir Peretz and Avi Gabbay will be forced to go head to head in a second round of primaries for the Labor Party leadership contest after it was announced Tuesday night they had emerged victorious in pushing the incumbent leader Isaac Herzog aside after four years of heading the opposition.
Some 52,000 registered party members headed to the polls to decide who they believe capable of leading them to victory in Israel's next general election, scheduled to be held sometime before November 2019. The next round of primaries will take place on July 10.
The tense race took place between MK Erel Margalit, former Environmental Protection Minister Avi Gabbay, MK Omer Bar-Lev, MK Amir Peretz, Prof. Avner Ben Zaken and Hod Karovi as each hoped to snatch the reins from Herzog, who suffered a defeat at the hands of Prime Minister Benjamin Netanyahu in the March 2015 elections.
Any remnants of hope that Herzog may have been able to salvage his tenuous grip on the party's top spot were dashed after he learned that he had only managed to bag a meager 16.7% (5,204) of the overall vote, precluding any chance of him duking it out in the second round.
After learning the result, Herzog issued a statement accepting his defeat. "Members of the Labor party have said (what they have said—ed). I respect their decision. I congratulate Amir Peretz and Avi Gabbay for getting through to the second round and wish both of them luck," he said.
Peretz managed to score significantly higher than Herzog, comfortably riding past the finish line with 32.7% (10,141) while Gabbay managed to clinch 27% (8,395).
Margalit managed to rally 16.1% (4,697) of the voters behind him while Bar-Lev grabbed 6.9% (2,147) of the vote.
Ben Zaken's political pride was delivered a blow after he managed to garner the faith of just 0.18% (56) of the voters while Hod Karovi suffered an ignominious defeat, taking just 0.03% (8) of the vote.
Peretz began what became an illustrious political career in 1983, occupying a myriad of prestigious posts, serving as minister of defense, minister of environmental protection and deputy prime minister in 2006 under Ehud Olmert. Indeed, if he beats Gabbay in the next round of voting, it will be Peretz's second time serving as the leader of the opposition.
After the results were announced, Peretz thanked his supporters. "I am grateful for the trust that has been placed in me and for the huge support that I received the whole way that brought me to first place in the primaries," Peretz said before paying his respect to Herzog. "I would like to thank my friend Isaac Herzog for the four years of service as chairman of the party and his massive achievement at the last Knesset elections."
With his sight firmly set on ultimately dethroning Netanyahu however, Peretz concluded his statement by saying that "I am convinced that I will win the second round, at the end of which I will begin the campaign to replace the Netanyahu government."
Gabbay is best known for establishing the Kulanu Party alongside Finance Minister and now party leader Moshe Kahlon. After forming the party, he was appointed to serve as the environmental protection minister.
During his tenure, he promoted the "Bags Law" requiring customers to purchase plastic bags at supermarkets, worked to remove the ammonia tank from the Haifa Bay and also to reduce the emission of pollutants from the Israel Electic Corporation's power plants.
Speaking at the Tel Aviv Convention Center, Gabbay told his supporters, "I want to thank my friends in the Labor party, who accepted me with the warmest embrace possible. Over the last six months, I've seen that many found my being new difficult, but you've proven that you can focus on what matters and know how to accept someone new. You've proven this is an open party.
"We're not a members' club and not the Tel Aviv party. (I'm—ed) happy we proved—my team and I—that a positive campaign can win. We successfully passed the first hurdle, but the hardest one is yet to come. We need you with us next week, as well, for without that we would have only done half the job."
Referring to Peretz, Gabbay said, "He's a worthy candidate. I congratulate him on the accomplishment and am sure we will conduct ourselves in a worthy, proper and democratic manner. Whoever wins, we will join forces and move forward."
Gabbay added that he had no intention of joining a coalition. "We don't want to be part of the coalition. We want to build a coalition in Israel. My passing to the second round and the many votes that Erel (Margalit) and Omer (Bar-Lev) received highlight in the clearest way possible that the members of our party want change," he said.
"The members of our party want hope. The members of our party want victory. I hope and believe that we will complete this in the second round. I believe that with the same energy, passion and belief, we will win the second round and build the party that will win the elections."