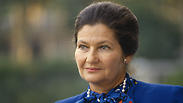 Holocaust survivor Veil to be inducted in Paris Pantheon
Simone Veil, who survived extermination camps Auschwitz-Birkenau and Bergen-Belsen, went on to become president of the European Parliament and an avid women's rights advocate, helping in the effort to legalize abortions in France; she died last week at age 89.
Holocaust survivors joined France's president and European dignitaries Wednesday at a special memorial ceremony for Simone Veil, who rose from the horrors of Nazi death camps of Auschwitz-Birkenau and Bergen-Belsen to become president of the European Parliament and one of France's most revered politicians.

Best known in France for spearheading the legalization of abortion, Veil faced down sexist criticism and repeatedly broke barriers for women in politics. She died last week at age 89.

During a national ceremony with military honors Wednesday at the Invalides monument, home to Napoleon's tomb, President Emmanuel Macron announced Veil will be inducted into Paris' Pantheon mausoleum—the final resting place of dozens of French greats.



European flags around France were lowered to half-staff to honor a woman whose experience at Auschwitz-Birkenau made her a firm believer in European unification.

Macron praised her as inspiring "respect and fascination."

"She loved Europe, she always fought for it ... because she knew in the heart of this European dream there were above all dreams of peace and freedom," he said.

Veil lost her parents and brother in Nazi camps, and spoke frequently about the need to keep the memory of the Holocaust alive.

"She knew that memory is here so that the unthinkable does not happen again," Macron said.

"Just as you leave us, Madam, please receive an immense thank you from the French people", he concluded in front of the coffin covered with a French flag, in the presence of hundreds of ordinary citizens and high-profile guests including former presidents Nicolas Sarkozy and François Hollande.

Veil will be the fourth woman to be honored at the Pantheon. She will join two women who fought with the French Resistance during World War II, Germaine Tillion and Genevieve de Gaulle-Anthonioz, and Nobel Prize-winning chemist Marie Curie.