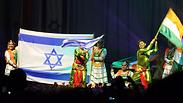 India/Israel relations
Photo: Motti Kimchi
Modi honored at event by Indian community in Israel
10,000 members of the Indian community in Israel honor Indian Prime Minister Narendra Modi in an event in Tel Aviv complete with traditional Indian dancing; PM Netanyahu: 'We are building this future today between us, between our two great democracies, between our two ancient peoples.'
Some 10,000 members of the Indian community in Israel welcomed Indian Prime Minister Narendra Modi at an event in honor of his visit to Israel Wednesday night at the Tel Aviv Convention Center.

Participants arrived dressed in traditional Indian clothing, while some wrapped themselves in Indian flags or sported shirts emblazoned with Modi's image.

Prime Minister Benjamin Netanyahu also addressed the crowd while Modi opened his remarks with the traditional "namaste," a respectful form of greeting in the Hindu custom.

"We are in a historic meeting, your visit, of two ancient peoples seizing the future," Netanyahu said in his remarks. "Prime Minister Modi and I have decided on a vast program to bring our partnership and our friendship to new heights. But we always remember that there's a human bridge between us—you. We admire you, we respect you, we love you."

Ofra Dronker, one of the participants, said, "This event has further brought the community together. The whole family is here, all the Indian immigrants from other countries. It's a huge celebration. This is an event I've been awaiting for months."

The tiny Jewish community in India is hoping that following Modi's visit to Israel they will be granted the status of being a minority in India.

There are currently some 6,000 Jews living in India and while they say they have never felt discrimination based on their religion, they still expect the special status to be conferred upon them as it has been on other religions such as Islam, Christianity, Buddhism and others.

"For us, India is our homeland. We are Indians first and then Jews. Israel is in our hearts and India is in our blood," said Yehezkel Merkel, a rabbi at a Delhi synagogue.

Earlier in the day, Modi met with Moshe Holtzberg, whose parents were murdered in the 2008 terror attack on the Chabad House in Mumbai.