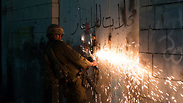 Sealing off weapons workshop
Photo: IDF Spokesperson's Unit
IDF find weapons lathes in WB, prepare terrorist's home for demolition
In overnight operations, IDF seals off firearms workshop after confiscating 2 lathes in Al-Ram used to manufacture improvised weapons often used in terror attacks; in separate operation, combat engineers prepare for demolition of the home of one of the terrorist involved in the murder of Hadas Malka last month.
The IDF, the Shin Bet, the Border Police and the Israel Police carried out a joint operation overnight Wednesday during which they discovered weapons-manufacturing equipment in the Palestinian village of Al-Ram northeast of Jerusalem.

Following the discovery, the security forces sealed off two of the illegal workshops while two lathes were confiscated along with numerous other weapons. Another lathe was located in a village in situated in the Etzion Regional Division.

IDF find lathes, seal off weapons workshops (צילום: דובר צה"ל)

In a separate overnight operation, the IDF carried out a mapping of the home belonging to a terrorist from the village of Deir Abu Mash'al ahead of its demolition for his role in a recent combined terror attack at the Damascus Gate in Jerusalem during which MSG. Hadas Malka was killed.

In the attack, three terrorists armed with semi-automatic weapons and knives struck in two different parts of Jerusalem's Old City, killing the 23-year-old border policewoman.