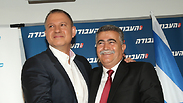 Margalit and Peretz
Photo: Yariv Katz
Outgoing Labor leader Isaac Herzog and MK Erel Margalit, both of whom lost in the first round of the primary election for the party's leadership, announced Friday they are backing MK Amir Peretz in the second round next week.

The second round of the chairmanship primary will be held on Monday, pitting the veteran Peretz against newcomer Avi Gabbay.

Peretz, who led in the first round by a margin of more than five percent over Gabbay, has served as the leader of the Labor Party before, and with the support of both Herzog and Margalit is considered the leading candidate for party leadership.

"Amir's overall experience, his security, diplomatic, social and economic record—the combination of all of this—are what tipped the scales," Herzog wrote on Facebook, calling on his supporters to vote for Peretz.

Herzog stressed he "did not ask for anything and did not receive anything" in return for his support.

"I insisted on three principles: preserving the Zionist Union, that is, (Labor's) unity with Hatnua Party as well as Tzipi Livni's position as chairman of Hatnua, and a commitment to work to establish a bloc headed by us to replace the Likud Party and (Prime Minister) Netanyahu," he explained. "I was happy that Amir Peretz agreed to all these conditions and I will make efforts to implement them."

"The connection between us is the story of the entire country," Margalit said in a press conference announcing his support of Peretz. "He was born in Morocco. I was born in Kibbutz Na'an. He grew up in a ma'abara (refugee camp) in the south, and I grew up in Karmiel in the north. He has been in politics all his life, (while) I was an entrepreneur and came to politics only a few years ago. We are completely different, (and) seemingly we have nothing in common. But we, together, are the real Israel."

"I decided to support Amir Peretz not because of the place he came from, but because of where he is going," Margalit added, lauding Peretz's vision of a social and secure future for Israel, saying he believes and connect with Peretz's vision of a place "where there is no incitement but acceptance, no separation but connection, a place that Netanyahu destroyed and we, together, will rebuild."

Peretz expressed his gratitude to both Herzog and Margalit, saying their support feels like a "joint trek up a mountain."

"As Erel said, 'the leftists are coming back.' They were and remain (relevant) because it's not just a slogan," said Peretz, thanking Margalit for his support. "This is a man who decided that in order to fight for the future, we must fight for identity.

"I am a leftist, because to me it (means) security, peace, social justice, human dignity, democracy, defense of the court of law and recognition of the other, recognition of the fact that we are the Jewish majority in the State of Israel and that the moral responsibility of being a majority is to know to protect the minority."

Peretz then thanked Herzog for his support. "He was the chairman of the party and this is a dramatic decision. As Erel Margalit is an important and central partner, Herzog is certainly an important and central partner, and I intend to examine some of the ideas he presented.

"We will try to expand the Zionist Union and bring in additional groups."