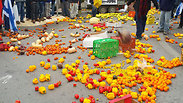 The Ministry of Strategic Affairs will allocate NIS 4 million to ten fairs in the United States and Europe allowing farmers from the Jordan Valley to sell their peppers, spices and grapes to pro-Israel consumers despite a European boycott.

The creative solution comes as a welcome relief to farmers in the area who have been suffering economically for years as a result of boycott efforts initiated by BDS and others. Products from the valley that are targeted for boycott include peppers, grapes, spices, figs and dates.

The economic damage from such activities is significant, with farmers suffering damages totaling roughly NIS 100 million every year.

Residents of the Jordan Valley have previously complained that the Israeli government is burying its head in the sand and not doing anything to protect them. However, for the first time, the Ministry of Strategic Affairs, headed by Minister Gilad Erdan, has decided to allocate NIS 4 million to help the Jordan Valley Regional Council.

The budget will be used to organize 10 international events in the US and Europe, where farmers from the area will be able to display their quality produce and proudly say, "Our produce is legally produced and we provide a livelihood for 6,000 Palestinians who are not cared for by the Palestinian Authority."

In addition to the events to be hosted in the US and Europe, the ministry is set to bring five delegations of foreign journalists to the Jordan Valley to highlight the effects of the boycott on produce.

This is not the first time that the idea was discussed.

In June 2016 a pilot was conducted in which the farmers from the Jordan Valley presented their produce in an 'Israel pavilion' in Moscow, getting 20,000 visitors. Additionally, in September this year, the ministry presented produce from the West Bank at an Israel advocacy conference in Washington.

"The struggle against boycott organizations is preventing damage to the country, but one of the important areas still at risk is Israeli agriculture, which is harmed by the lies spread against it," said Erdan in an interview with Yedioth Ahronoth. "It is very important to promote and showcase its quality and to protect it, and that is the essence of cooperation with the Jordan Valley."

David Elhiani, head of the Jordan Valley Regional Council, said that in England and Western Europe, with an emphasis on Scandinavia, products from the Jordan Valley are treated as contaminated goods.

However, Elhiani expressed hope with the plan, saying, "The fairs can save agriculture in the Jordan Valley and expose us to new markets. We hope to reach Asia and the US as well."