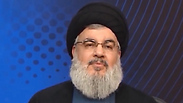 Hezbollah leader Hassan Nasrallah
The weapons factory Iran is building for Hezbollah in Lebanon is reportedly going to be 50 meters (165 feet) below ground and fortified to defend against Israeli airstrikes, according to French magazine Intelligence Online.

According to the report, which was quoted by a Syrian opposition site and the Iranian news agency Fars on Sunday, there will be two facilities to the factory.

One facility at the Hermel area, which is in the eastern part of the Beqaa Valley, will manufacture Fateh-110 surface-to-surface missiles with a range of up to 300km and the capability to carry a 400kg warhead.

The second facility will be located on the Lebanese coast between the cities Tyre and Sidon.

The factory will manufacture different parts of the missile, which will be later be put together in different factories at a later date, the French magazine reported.

An official from Iran's Revolutionary Guard Corps (IRGC), which is funding the arms factory, said in March that construction work had already begun.

According to the French report, which cites inside officials, layers upon layers of fortifications have been built over the facilities.

According to intelligence researchers Ronen Solomon from the Intellitimes blog, the locations of the facilities reported by the French magazine were likely fairly accurate. The Hermel area is on the logistics route used to supply Hezbollah with weapons, Solomon told Ynet.

Furthermore, it was also likely the second facility was in the coastal area, as it could be used as testing grounds for the missiles, similar to how Hamas is utilizing the coastal area in the Gaza Strip.

Defense Minister Avigdor Lieberman said last week that while Israel is aware of the weapons factory Iran is building in Lebanon, "we've opened a big gap with Hezbollah since 2006. There's no need for hysteria or euphoria on the topic."

IDF Chief of Staff Gadi Eisenkot said several days later that the issue was "at the top of our list of priorities, but at the moment we're talking about a very limited capability. We're working against it using quiet measures to avoid a deterioration of the situation."