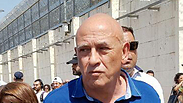 A bill submitted by Joint List MK Jamal Zahalka calling for "humane" conditions for prisoners in Israeli jails was quashed in its preliminary reading two days ago, scarcely a week after Former MK Basel Ghattas (Joint List) arrived at Gilboa Prison to begin his first day behind bars.

Ghattas was sentenced to two years for smuggling cell phones to security prisoners in Ktzi'ot Prison.

In an effort to exemplify his charge that conditions are particularly inhumane in Israeli prisons, Zahalka said that since entering prison, Ghattas had not called him even once.

"As a security prisoner he has no outbound telephone calls," Zahalka complained. "All the benefits given to a criminal prisoner such as open visits, holidays...and television channels are to be annulled for Ghattas because he is defined as a security prisoner."

According to Zahalka however, the proposed legislation was submitted without Ghattas in mind but rather was done so strictly based on humanitarian considerations.

"I submitted it in order to establish norms of humane conditions for all prisoners in Israel," he claimed. "The punishment is the denial of liberty, and in prison we need to provide a person with physical and humane conditions that do not harm his dignity.

"For example, I suggested that security prisoners receive telephones that are under constant surveillance," he said.

On Sunday, a report highlighted the difficult conditions under which prisoners are expected to live in jails throughout Israel.

The report, which examined the matter over 2016 and touches on 24 prison facilities and 10 detention centers in courts, found that prisoners dwell in areas stretching up to just 3 meters, compared to 8 meters in other western countries.