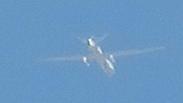 Drone ISIS claims to be Israeli
The Islamic State (ISIS) uploaded a video clip to the internet Sunday showing a terror attack it carried out Friday in northern Sinai in which a UAV can also be seen, which the group claims belongs to Israel.

According to the organization, the Israeli drone was hovering over the area as part of the assistance it provides to the Egyptian government.

It is not the first time ISIS has accused Israel of assisting the Egyptian military in its fightback against the terror movement.

On Friday, ISIS militants unleashed a suicide car bomb and heavy gunfire on an Egyptian military checkpoint in northeastern Sinai Peninsula, leaving 23 security troops including a special forces colonel dead and wounding at least 33, authorities said.

In light of the attack, Hamas in Gaza announced Sunday that it was beefing up security on its southern border.

The move came largely as a ploy to demonstrate to Cairo that the Gaza-ruling terror group had no connection with the bombing, particularly after reports began to circulate in Israel that it was carried out with the help of people who were former members of Hamas's military branch.