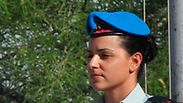 Lt. Col. Reut Retig Weiss
Lt. Col. Reut Retig Weiss officially assumed her position as battalion commander of the Artillery Corps' drone unit in a ceremony Sunday, becoming the first woman to ever hold the position.

"Before almost seven years ago I was present at the founding ceremony for the unit and never in my wildest dreams did I think that one day I would command it. It's an extraordinary privilege and a tremendous mission," said Retig Weiss.

Lt. Col. Retig Weiss assumes command at a time when the unit's operational activity is being dramatically increased in all sectors from the Syrian border to the Egyptian border.

The unit operates the IDF's smallest tactical UAV, which is intended to assist a broad range of commanders, from those on the ground up to company commanders and even brigade commanders.

Retig Weiss also assumes command at a time when the unit has experienced a record number of crashes in enemy territory; an average of once per month. In the last six months there have been crashes in southern Lebanon, the Syrian Golan, the Gaza Strip and the West Bank.

However, a senior IDF officer explained to Ynet that the majority of crashes have been due to technical failures and emphasized that no sensitive information had been compromised by the crashes.