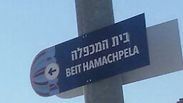 Civil Administration accepts settler appeal for Machpelah House
Settlers vow to return to Hebron's Machpelah House following ruling Civil Administration by determining that copies of ownership documents are as good as originals; Hebron settlers: 'This should be the government's answer to the UNESCO decision.'
Settlers are renewing their struggle to return to the so-called Machpelah House after UNESCO's contentious decision to recognize the Tomb of the Patriarchs as a Palestinian World Heritage Site.

The Machpelah House was the site of a 2012 evacuation of settlers which had taken up residence in the three-story structure adjacent to the Cave of the Patriarchs. Settlers had originally claimed the property was legally sold to them by the Palestinian owners, a claim the latter vehemently denied.

The 14 settler families living in the structure were ultimately evacuated by police and the IDF on the orders of then-Attorney General Yehuda Weinstein and Minister of Defense Ehud Barak.

A year later, following a shooting attack, Netanyahu decided to resettle the disputed property, but ran into problems with the High Court, which ruled that no permits had been arranged.

In December 2015, the Land Registration Committee (LRC) determined that settlers had not produced all the necessary documents and that some of them were unreliable. The LRC deals with the registration of real estate, which to this day constitutes the legal basis for registration of land that has not yet been registered in Judea and Samaria.

About a month after the committee's decision, settlers filed an appeal with the Civil Administration, which ultimately stated, "There is an immoral gap between the evidence we found in the committee's case and its decisions."

The Civil Administration also referred to the issue of the so-called "missing documents" and noted that the documents in question were not missing, but were merely copies, as opposed to the originals. As such, the Civil administration noted, "according to the Notaries Law, these copies are the same as the originals."

As a result, the Civil Administration recommended that the original LRC decision be overruled.

Following the dramatic development, settlers said in response, "We demand entrance to the homes which were legally purchased and an end to the destruction of property rights. That should be the government's answer to the UNESCO decision."