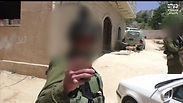 Soldier faces disciplinary action after threatening B'Tselem activist
Palestinian activist films an IDF force conducting routine security checks in Hebron when one of the soldiers, hearing she's from B'Tselem, calls her a 'slut' and threatens to come back at night and arrest her; IDF: 'Soldier's comments not in line with the IDF's values.'
Soldiers documented threatening a B'Tselem camerawoman in Hebron will face disciplinary action, the IDF said Thursday.

In late May, an IDF force was called to the al-Harika neighborhood in Hebron following reports of stone throwing near Kiryat Arba.

The force arrived at the scene and stopped a car in which a Palestinian couple and their baby were traveling for a random security check.

A B'Tselem Palestinian activist who was at the scene filmed the entire incident.

In the video, which was obtained by Ynet, one of the soldiers asks the Palestinian activist what she was doing, and she identifies herself as a member of B'Tselem.

The soldier expressed his displeasure of the fact she was filming the routine activity. Because she is allowed to film the soldiers as long as she does not interrupt the operations of the force, they cannot order her to stop.

When another soldier, standing several meters away from the first one, heard the activist was from B'Tselem, he started swearing and threatening her, calling her "sharmuta," which means "slut" in Arabic and is used colloquially in Hebrew as well and adding "someone needs to bash their heads in."

During the incident, the force's commander, who was not an officer, was a short distance away and likely did not notice what was happening.

The Palestinian activist did not respond to the soldier's provocations, and he is seen in the video threatening to film her back and then return at night to arrest her.

When one of the soldiers took out his cellphone to film the activist, his commander ordered him not to do so, step away from the Palestinian woman, and return the phone to his pocket.

The IDF Spokesperson's Office said in response to the incident, "The way in which the soldier spoke is not in line with the IDF's values and the behavior expected of soldiers. The incident is being handled by his commanders and disciplinary action will be taken accordingly."

The B'Tselem NGO said, "This is the reality of the occupation, an ongoing and unbearable routine for the Palestinians for 50 years. The same is true for this incident in Hebron."