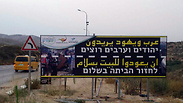 The sign published by the new road safety organization
Israelis and Palestinians join hands in W. Bank to fight car accidents
High mortality rates from vehicular accidents have spurred Palestinians and Israelis in the West Bank to erect a volunteer organization that will campaign for more careful driving; ten people have recently died in a span of ten days on Road 60, running through Judea and Samaria.
Israelis and Palestinians decided to fight together against vehicular road accidents, in the West Bank's Judea and Samaria. Samaria Regional Council Head Yossi Dagan, together with influential Palestinian political figures, have agreed to set a civil organization to combat the high accident rates. The organization has already come out with a campaign whose slogan is Jews and Arabs want to return home safely.

Vehicular accident-related deaths in Judea and Samaria have become a cause of great concern for the area's residents. Their concern was mirrored two weeks ago by a string of deadly crashes, resulting in ten deaths within ten days.


Dagan convened several Palestinian officials in his office to discuss the matter. The Palestinians' names were not made public due to the sensitivity of the interaction.

According to the plan, the organization will include Israeli and Palestinian volunteers, who will begin an education campaign along accident-prone axis in the region, with talks and lectures on the matter.

The organization will additionally try to fight the use of cars that do not meet the necessary safety standards. Such cars are normally taken off the road after not meeting official regulations, before ending up in the hands of Palestinian mechanics who resell them, as complete units or as parts, for thousands of shekels.

From its initial investigation, the organization has found that the main reason for vehicular accidents is the human factor. "The number one cause of death in Judea and Samaria is car accidents," said Dagan. "Whoever gets on these roads is taking a chance." He added that "The infrastructure isn't good enough. We expect the government to make this a top priority."

One of the Palestinian officials whto meet with Dagan said, "This isn't a political matter. There are Jews and Arabs who die on the road. We call Road 60 'the Road of Caskets.'"