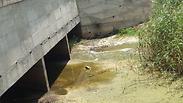 Nahal Hanun overflowing with sewage
Photo: Roee Idan
'Ecological terrorism': stream overflows with sewage from Gaza
As a result of the crisis in Gaza, the amount of wastewater flowing into the stream that reaches the Ashkelon coast has increased. Vacuum trucks are no longer efficient, and the barriers erected by the IDF are not succeeding in preventing the flow of sewage into the stream.
Over the past week, the amount of sewage flowing by the Palestinians to the Hanun stream, which crosses Israel and the Gaza Strip, has increased, and Israel is feeling the impact of the pollution.

Following the electricity crisis and the collapse of sewage treatment plants in the Gaza Strip, Palestinians are dumping their sewage into the Hanun stream.

At first the sewage flowed relatively slowly, and the vacuum trucks managed to overcome the hazard.

In the past week, however, the amount of wastewater drained into the stream has increased significantly, causing it to be flooded with polluted water to the point of overflowing, causing the vacuuming of sewage water to be no longer effective.

In recent days, the IDF has blocked the stream from the Gaza side with mounds of dirt in an attempt to stop the flow of sewage, but the Palestinians broke through the mounds and returned to dumping sewage into the stream.

Hundreds of vacuum trucks operated in recent days to reduce the level of sewage, but without success. In addition, inspectors fumigated the area against the mosquitoes that started breeding there because of the accumulation of polluted water.

Hof Ashkelon Regional Council head Yair Farjun said: "What we're seeing here is an ecological terror attack. The Israeli government must immediately resolve this crisis and not leave Hof Ashkelon Regional Council to deal with it alone."

"The dozens of trucks that operate are no longer effective, he added, warning that "the water level rises daily and if the situation remains as it is—the stream will overflow. Beyond the visible pollution, the sewage water also pollutes the Coastal Aquifer very severely."