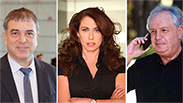 Filber, Handler and Elovitch
Photo: Yuval Hen, Eli Dasa and Orel Cohen
Communications Ministry director, Bezeq heads embroiled in massive fraud case
Shlomo Filber is suspected of providing classified documents and internal papers to the heads of telecommunications conglomerate, who then amended them to benefit Bezeq at the cost of hundreds of millions of shekels to the Israeli taxpayer.
Communications Ministry Director-General Shlomo Filber is currently under investigation on suspicions he acted in a fraudulent manner to advance the interests of Israeli telecommunications conglomerate Bezeq.

According to the Israel Securities Authority (ISA), Filber is suspected of "working systematically to transfer classified documents, internal position papers and documents from inter-office discussions to Bezeq, while hiding this from the ministry's professional and legal officials."

According to the ISA, the suspects, including Shaul Elovitch, the controlling shareholder of Bezeq, "used to convey to Filber their position on the documents, including amendments that correspond to their strategic and business needs, which were then accepted and served as the basis for future discussions" in the Communications Ministry. These changes "benefit Bezeq and its economic interests and those of the suspects," all while hiding the ties between Filber and Bezeq.

In this context, Bezeq CEO Stella Handler, Elovitch and his son Or, and Filber are suspected of fraud and breach of trust, fraudulently accepting benefits under aggravated circumstances and obstruction of justice.

On Thursday, the Tel Aviv Magistrate's Court sent Filber, Elovitch and Handler to house arrest for 14, seven and nine days respectively.

All suspects vehemently denied the suspicions against them.