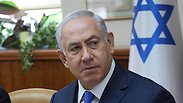 Prime Minister Netanyahu
Photo: Ohad Zwigenberg
Prime Minister Benjamin Netanyahu went on the offensive on Thursday night amid criminal investigations against two of his close associates, primary Bezeq shareholder Shaul Elovitch and attorney David Shimron.

In a rare interview with Channel 20, which is considered friendly towards the prime minister, Netanyahu launched yet another attack against the Israeli media.

"They know I cannot be defeated in elections, so they're trying to put scandals on me," Netanyahu said in the interview aired shortly before midnight.




"We're at the midst of an unprecedented media campaign meant to besmirch me using empty accusations in an effort to change the government," he asserted. "I don't want to turn the other cheek; I want to give some slaps back. Since almost the entire media is part of this campaign, only on Channel 20 I get to finish my sentences."

Netayahu claimed no knowledge of the ties between Elovitch and Communications Ministry director-general Shlomo Filber, who is currently suspected of revealing classified information to Elovitch, which Bezeq then benefitted from. "I have no idea, I don't know anything. Nothing," he said.

A law enforcement official noted there is no evidence at this point to indicate Filber acted at the orders of then-communications minister Netanyahu.

Concerning the investigation into corruption surrounding the procurement of submarines and patrol ships from German conglomerate ThyssenKrupp, in which Shimron is a main suspect, Netanyahu clarified "the attorney general explicitly said there are no suspicions against me. This doesn't stop the media from coming at it with full force and blowing the case out of proportion."

On Shimron's client, businessman Miki Ganor who represented ThyssenKrupp in Israel, the prime minister insisted, "I don't know who he is, I've never met him. And I have no idea what is attributed to him and what isn't. I only know one thing... I am not a suspect and I didn't do anything improper."

He also came out in defense of Shimron and Filber, saying, "I know them as honest and ethical people and I have no doubt nothing will come out of this. Besides, a person under investigation is not guilty. Additionally, these investigations have nothing to do with me. Nothing," he stressed.

On his Facebook page, Netanyahu posted an image branding most of Israel's leading media organizations as "Fake news," including Ynet, Channel 2 and Channel 10, Channel 2's website Mako, Walla! News, Haaretz, and its financial newspaper The Marker.

"The fake news system is simple: they simply paste the photo of the prime minister under bombastic headlines with baseless accusations and expect the brainwashing to get the job done and sway public opinion," Netanyahu wrote in his post.

"In the past, it worked when we got (Ehud) Barak in 1999 with promises of a 'dawn of a new day' and buses blowing up every other day. Unfortunately for them, these days it doesn't work, because the people of Israel have the ability to speak their mind, learn the truth, and expose the lies on social media," he added.
Talking points to Likud members
Earlier in the day, the prime minister summoned his close confidants in the Likud party for a meeting in his office, instructing them on how to respond to the recent affairs.

"There's an attempt to lynch me and a campaign against me," Netanyahu told ministers Yariv Levin, Ze'ev Elkin, Miri Regev and Ofir Akunis, as well as MKs David Bitan, Miki Zohar and Amir Ohana.

"The goal is to bring me and the Likud down. Political elements and media figures are joining forces," he accused.

"According to the Justice Ministry and the comptroller report, I did not make any controversial decisions. In the submarines investigation, it was explicitly clarified I was not involved. But that doesn't matter. You know why? Because Bibi is guilty even if his innocence is proven," he went on to say.

The ministers and MKs were given talking points and several of them were also scheduled to appear on different TV and radio shows.

"I invited you over to tell you the facts, and you'll present them in interviews you give to the media," the prime minister told them.

But not all members of Likud were on board. "I'm not willing to participate in Netanyahu's campaign, because I don't want this entire thing to stick to me later," said one senior Likud official. "The fact is that many of the senior Likud minister have not come to his aid."



A senior Likud official said Thursday that Netanyahu "is not worried about the legal aspect of these affairs, but about the damage caused to his and the Likud's image."