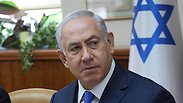 Netanyahu
Photo: Ohad Zwigenberg
Prime Minister Benjamin Netanyahu decides that mourning tents set up in Umm al-Fahm by the families of Friday's Temple Mount terrorists will be dismantled. Netanyahu also decided that following a security assessment on Sunday, the Temple Mount will be gradually reopened to worshippers.

Netanyahu made the two decisions during a security meeting Friday attended by Minister of Defense Avigdor Lieberman, Chief of Staff Lt. Gen. Gadi Eisenkot, Police Commissioner Roni Alsheikh, Shin Bet director Nadav Argemon and head of COGAT, Maj. Gen. Yoav Mordechai.

The Prime Minister's Office said that Netanyahu received an update on the investigation and also instructed the defense minister to significantly strengthen security arrangements for access to the Temple Mount.

During the meeting, officials also decided to continue the investigation into the attack on the Temple Mount over the weekend.

The decision to close the Temple Mount in light of Friday morning's terrorist attack has raised ire among Muslims across the region and the world. The development even prompted PA President Mahmoud Abbas to call Netanyahu and demand the compound be reopened.