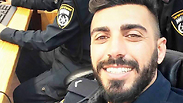 Police officers murdered in Temple Mount terror attack laid to rest
Staff Sgt. Maj. Ha'il Satawi and Staff Sgt. Maj. Kamil Shnaan are both laid to rest in their home towns after being murdered in Friday's terror attack at the Temple Mount; Netanyahu: 'This is a sad day in which our brothers from the Druze community pay the heaviest price in our joint mission to defend the security of our country. I salute them and their heroism, and their memory will always be preserved in our hearts.'
Thousands of mourners attended the funerals of Staff Sgt. Maj. Ha'il Satawi, 30, and Staff Sgt. Maj. Kamil Shnaan, 22, of Maghar and Hurfeish, respectively, who were both murdered in a terrorist attack Friday morning at the Temple Mount in Jerusalem.

Satawi is survived by his three-week-old son, his wife, parents and three brothers.

Numerous government officials attended both funerals, including Police Commissioner Roni Alsheikh, Minister of Public Security Gilad Erdan, Labor Party Chairman Avi Gabbay, Opposition Chairman Yitzhak Herzog, Minister of Education Naftali Bennett and MK Amir Peretz.

Police Commissioner Roni Alsheikh spoke at Satawi's funeral, saying, "Today you shouldn't have been at the Temple Mount, but you switched with a friend who needed help. That is who you were, ready to volunteer for any mission."

Alsheikh continued, saying, "As usual, you were the first to run to the source of the shooting, and unfortunately for us, you found your death with your head held high, you and Kamil. Ha'il, your friends cannot digest the fact that you are not among the living anymore.

"More and more security missions are falling to the police; police who serve on the frontline on a daily basis. You served in the most sensitive place in the world, in order to preserve freedom of worship. There, vile people decided to thwart this right. We will not allow it."

Ha'il Satawi laid to rest (צילום: אביהו שפירא)

Through tears, Kamil's father, former MK Shachiv Shnaan, said, "I am proud of my son, who is here wrapped in the flag of the country. I saw the reports about the attack and the headlines, and I did not imagine that I was the father of one of the fallen.

"He did not answer his phone and I realized that something had happened. In the name of the people of Israel, I wish these will be the last of the fallen. My heart is also with the Satawi family and I wish a speedy recovery to our brothers, the Kablan family. Enough of the crying and tears. It is my prayer that the rifle is replaced with the flower."

Kamil Shnaan laid to rest (צילום: אלעד גרשגורן)

Avi Gabbay spoke at Shnaan's funeral, saying, "This is a day in which two outstanding officers fell during their duty. This is a day when the Druze community again mourns two of its sons who protected the citizens of the state with their bodies. We have a pact of life and blood with the Druze community, and we need to give this pact more weight."

Gabbay emphasized, "Even on a day when Arab citizens have hurt us, we need to remember to separate the murderers and the inciters from the general society."

Mayor of Maghar, Ziyad Dagash, said, "Today a black day passes over us as two policemen were murdered. Dearest Ha'il, we will always remember your friendly personality. As we do, we will accept this sentence upright, because it is the will of God."

Minister of Public Security Gilad Erdan also eulogized Ha'il, saying, "Unfortunately, I did not get to know you personally, but from all your friends and relatives we heard that you were a loved and promising man. It is extremely painful to know that you only just recently started your own family. You were a good friend and an amazing police officer.

"What you did saved many lives and represented the values you believed in. The best are those who choose to stand in the front and that is who you were, Ha'il—it is our misfortune that those are the first to fall; the heart breaks, but you are the strongest of us all."

Prime Minister Benjamin Netanyahu issued a statement, saying, "On behalf of all the citizens of Israel, I would like to send heartfelt condolences to the families of those murdered in today's criminal terror attack on the Temple Mount.

"This is a sad day in which our brothers from the Druze community pay the heaviest price in our joint mission to defend the security of our country. I salute them and their heroism, and their memory will always be preserved in our hearts."