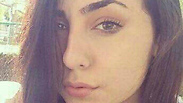 Sami Kara, 59, was charged Sunday with the murder of his 17-year-old daughter Henriette, allegedly because she was having a romantic relationship with a young Muslim man currently in prison
Kara, a Christian, allegedly stabbed his daughter to death a day after her high school graduation last month.
According to the State Attorney's, a friend of Henriette's received several text messages from the frightened girl describing threats from her family.
"You wouldn't believe what they did to me," Henriette wrote. "They're sending people to kill me"; "I'm at a different house everyday"; "They're looking for me everywhere"; "I'm waiting for him to get out, I'm afraid being outside without him"; "You don't understand how scary this is, I can't believe I still have the energy to stand on my legs and run."
צילום: אבי מועלם
According to the indictment, about a year before the murder, Henriette, to the dismay of the defendant and their family, began to have a relationship with a young Muslim man. Henriette left her family's home at the end of May because of the strained relationship with her parents and felt that her life was in danger.
She stayed in various hiding places, including with the mother of the young man who was in prison.
The indictment describes how her father, together with her mother and other family members, attempted to bring her home, often demanding help from the police. The family also attempted to threaten Henriette and her boyfriend's mother.
According to the indictment, a few days before the murder, the family found Henriette in Ramle and broke her cell phone. Her father then arrived at the scene, physically assaulted her and threatened her, "I'll sit in prison for the rest of my life, I don't care."
On the evening of June 12, following a party marking the end of high school, Henriette spoke to a relative and conveyed her intention to convert to Islam once her boyfriend was released from prison.
Later that same day, the relative phoned Henriette's father and informed him of her intentions. A short while later, Kara appeared at the apartment Henriette was staying and stabbed her three times, killing her.
Henriette was a close relative of Justice George Kara, who was informed of her murder at his swearing-in ceremony for the Supreme Court at the President's Residence.