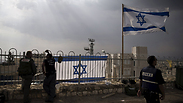 Jabel Mukaber
Photo: Reuters
The Ministerial Committee for Legislation approved Sunday a proposed amendment to Basic Law: Jerusalem that would require a majority of at least 80 members of Knesset to pass any decision to give up lands in the capital.

The so-called United Jerusalem bill, which was proposed by Bayit Yehudi leader Naftali Bennett and MK Shuli Mualem-Rafaeli, is expected to pass in the Knesset as well, as it enjoys support from Prime Minister Benjamin Netanyahu and the rest of the coalition.

"The capital city was spared twice from the disaster of division led by Ehud Olmert and Ehud Barak, when they had a temporary majority at the Knesset," Bennett said. "The United Jerusalem bill will prevent any possibility of the division of Jerusalem. Unity around the United Jerusalem bill will strengthen our status in the world and prevent future pressure on Israel."

Mualem-Rafaeli added, "Considering past experience, in which two prime ministers tried to divide Jerusalem as part of a dangerous diplomatic agreement, we must prevent in advance any harm to the capital of Israel. There's an opportunity with this coalition to bring to the approval of this bill."