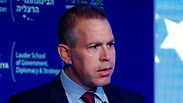 Public Security Minister Gilad Erdan
Photo: Motti Kimchi
Erdan: Gov't should consider demolishing homes of Israeli Arab terrorists
Public security minister says if Israel sees support for terror attacks among the Israeli Arab sector, the government would have to consider demolishing homes there too. However, he believes 'the majority of the Arab public in Israel is law-abiding.'
Public Security Minister Gilad Erdan said Sunday the government should consider demolishing the homes of Israeli Arab terrorists in the wake of a deadly terror attack carried out by three residents of Umm al-Fahm.

"The decision on whether to demolish has to do with the question of whether this phenomenon plays a central part in that sector," Erdan told Ynet in an interview.

"This is why the High Court of Justice decided against demolishing the homes of Jewish terrorists, because it's not a phenomenon that gets backing (in their sector). If we see more support for these (Israeli Arab) terrorists, and the chances others follow their example increase, we'll have to consider the demolition of their homes too," he explained.

Erdan clarified he believes "the majority of the Arab public in Israel is law-abiding and wants the police to be active in (their) communities and protect their children from the violence that plagues Arab society."

At the same time, "there are extremist, violent, inciting elements in that society—such as Sheikh Raed Salah and others—and we're doing everything we can to outlaw them," he said.

Two Israeli police officers were killed in the attack, which was carried out by the three terrorists who had no prior security offenses. The Temple Mount was closed for two days following the attack and a gradual reopening of the holy site began Sunday.

Police opened two of the entry gates, setting up metal detectors and security cameras at the entrance to increase security.

"The police will do whatever it can to reopen all of the gates as soon as possible and put metal detectors in all of them," Erdan said.

"We said our intention was to search the area and protect against threats that could develop on the Temple Mount, certainly after we saw that firearms were brought into the complex and the shooting was done from within the compound," he explained.

The minister said additional weapons were found in searches in the complex, but they were mostly knives. "There are also all kinds of dual-use materials that could be used in attacks, but they're legitimate materials. The police will have to address the different activities taking place on the Temple Mount that don't necessarily have to do with religious activity," he noted.