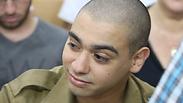 Elor Azaria
Photo: Motti Kimchi
Sgt. Elor Azaria to be placed on house arrest
In light of Azaria's impending release from the IDF on Thursday, the IDF Court of Appeals is expected to place him under house arrest until an IDF judicial panel can rule on the appeals in the case; Azaria was convicted of manslaughter after shooting dead a neutralized terrorist.
For the first time since Sgt. Elor Azaria shot dead neutralized terrorist Abed al Fatah al-Sharif in Hebron in March 2016, the soldier will be released on house arrest.

Deputy Chief of the IDF Military Court of Appeals, Brig. Gen. Orly Markman, will deliberate on the terms of his house arrest ahead of Azaria's expected release from the IDF on Thursday.

Azaria—who was convicted of manslaughter and sentenced to 18 months in prison—will serve his house arrest at his parents' house in Ramla for no more than a week or two until a decision is reached on the appeals in the case.

Azaria has spent the last year in open detention at the Kfir Brigade's Nachshonim Base near Rosh HaAyin. In that time, Azaria periodically left the base for short furloughs home and many trips to court. Additionally, his family was granted frequent visitation rights to his base.

Military Prosecution is not expected to demand his transfer to full imprisonment as a civilian while there is still an appeal pending.

Azaria appealed the original verdict and demanded a full acquittal, while the prosecution appealed the leniency of the sentence and demanded that the court increase the punishment from 18 months to 24 months.

The judicial panel in the court of appeals originally asked the two sides to come to a compromise on their own. However, Azaria's attorney, Yoram Sheftel, and Prosecutor Lt. Col. Nadav Weissman could not reach an agreement.