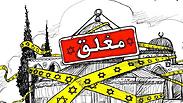 Israel's decision to temporarily close the Temple Mount following the deadly terror attack there on Friday led to a series of condemnations across the Arab world, with caricaturists weighing in as well.

In Saudi Arabia, where the government has yet to issue an official statement on the topic, the newspaper Al Watan printed a caricature of a Star of David with Satan's horns, which is eating the Dome of the Rock.

In Jordan, where both the king and the government have harshly criticized the move, the newspaper Al Ghad featured a caricature showing an Israeli soldier closing the gates of the Temple Mount to the Arab world.

The caricature in the London-based pan-Arab newspaper Al Quds Al Arabi criticized what they deemed as a weak response by the Muslim world, which is portrayed as an ostrich burying its head in the sand while the Al-Aqsa Mosque bleeds.

A caricature on social media shows what appears to be a Palestinian youth trying to tell the Arab world that the Al-Aqsa Mosque was in danger. The Arab world, portrayed as a fat man sitting in an armchair and drinking wine, asks his friend, "What's with him?" The friend, also holding a bottle of wine, answers: "He says Al-Aqsa is in Qatar."

The website Arabi 21, which is affiliated with Qatar, published a caricature showing a boy pointing to the Al-Aqsa Mosque and saying "Al-Aqsa is in danger," while a man who represents the Arab states currently boycotting Qatar, standing with his back to him carrying a weapon, says "Terrorism in Qatar?!"

Al-Araby Al-Jadeed, also affiliated with Qatar, showed the mosques on the Temple Mount closed off with yellow crime scene tape marked with the Star of David and a sign that says "No entry."