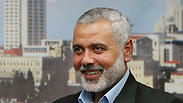 Ismail Haniyeh
Photo: Reuters
Hamas is considering establishing a permanent presence in Algeria, according to Palestinian sources in a report Monday by Asharq Al-Aswat.

The terror organization's senior leadership is spread out over several countries across the Middle East and Asia after being forced to leave Doha last month.

According to the report, Hamas is asking the North African country for permission to set up an official bureau in Algiers, along with posting several senior members. Algeria has yet to respond to the request.

Hamas spokesman Sami Abu Zuhri is reportedly already in Algeria and is expected to be the first senior member to be posted to the country should the organization's request be approved. Zuhri confirmed that he had submitted such an application to Algerian authorities and that they had agreed to examine it.

Currently, Hamas officials are spread out across the Gaza Strip, Lebanon, Malaysia and Qatar in an attempt to avoid both concentrating everyone in the same state and external political pressures on the host country.

Past attempts at concentrating political power in one state were all met with failure when the organization was forced to move from Syria, Qatar and Turkey. As such, it was decided that Hamas leader Ismail Haniyeh would remain in the Gaza Strip.