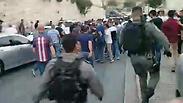 Police dispering protestors
Protestors clash with police over Al-Aqsa metal detectors
Dozens of protestors block roads and throw rocks at police in protest of additional security measures including metal detectors being installed outside the mosque in order to prevent weapons from being brought in; Israeli security has been on high alert in the Old City since Friday's deadly terror attack.
Dozens of Muslim worshippers clashed with police Monday night near the Lion's Gate in Jerusalem over the installation of metal detectors at the entrance of the Al-Aqsa Mosque following Friday's deadly terror attack that claimed the lives of two Israeli police officers.

Police were forced to disperse protestors using stun grenades, injuring two Palestinians who received medical treatment at the scene.

Worshippers yelled "Allahu Akbar" at police and threw stones and other objects at officers. One protestor said, "We will not respect the metal detectors. We will continue to resist until the death and we will die here as martyrs."

Muhammad Ali, a resident of east Jerusalem, told Ynet, "We will not enter the Al-Aqsa Mosque as long as there are checks that are meant to humiliate worshippers. We will arrive at all hours, everyday and pray in front of the mosque entrance.

"We will continue our struggle as long as it takes. We have the right to enter (the mosque) freely without being checked. Whoever doesn't like it, don't come here, including the police and the racist government."

Police dispersing protestors (צילום : עפר מאיר)

Throughout the day, hundreds of Muslim worshippers from the Galilee, the Negev and other Arab cities and villages refused to enter the mosque because of the metal detectors.

Additionally, dozens of Muslim protestors blocked streets in the Old City, prompting police to employ dispersal methods once again.

Acknowledging the heightened tensions that have ensued from the installation of the metal detectors, Prime Minister Benjamin Netanyahu insisted that they were nevertheless necessary to prevent further terror attacks. "I understand there is friction around the matter of the metal detectors. But we also understand that we can find ourselves in another terror attack like this and these means are necessary, including the security cameras that we intend to place around the area," he said.