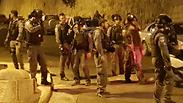 Molotov Cocktails, rocks hurled at Israeli personnel in overnight clashes
As Israel stands fast on decision to install metal detectors outside Al-Aqsa mosque, Israeli soldiers and police targeted as enraged worshippers and mobs vow to 'continue the struggle' against the measure; 'we are ready to die as martyrs.'
Protests staged by Muslim worshippers against increased Israeli security measures at the Temple Mount continued and escalated overnight Monday as Molotov Cocktails and rocks were hurled at Israeli security forces in the Palestinian neighborhood of Silwan, according to the Jerusalem Police.

Angry crowds gathered near the Lion's Gate in Jerusalem over the installation of metal detectors at the entrance of the Al-Aqsa Mosque following Friday's deadly terror attack that claimed the lives of two Israeli police officers.

Violent clashes (צילום : עפר מאיר)

Forces stationed in Silwan spotted a teenager carrying fireworks which he fired directly in their direction, prompting the forces to respond with live rounds in the air and attempt to disperse the enraged crowds.

According to police, dozens of masked youths made their way to the gas station at the entrance of the neighborhood and threw rocks and Molotov Cocktails at the personnel and onto the road, causing a fire which was eventually extinguished by firefighters.

A policeman was struck with a rock in his leg and taken to hospital in light condition while damage was also caused to a police vehicle. In addition, a man was arrested after he was seen carrying a knife.




The Jerusalem Police also said that violent outbreaks had occurred in Isawiya where rioters threw Molotov Cocktails and fired fireworks at police forces and IDF Border Policemen.

Two suspects were arrested in the clashes and according to police, four residents of Wadi al-Joz and Sur Baher were arrested on suspicion of public disturbance offences during the night.

IDF soldiers also said that rocks had been thrown at them as they were carrying out arrests in Jalazone, a Palestinian refugee camp in Ramallah, leaving one officer in light condition.

"We'll get to the Lion's Gate and other gates and we will continue the struggle," vowed one resident from east Jerusalem at the end of yet another day of violence between Palestinians and Israeli security forces in the capital. "We are prepared to die as martyrs and not go along with the humiliations of the racist Israeli government."

While security forces and the Israeli government have expressed hopes that tensions will calm over the Temple mount, another resident of east Jerusalem pledged not to allow Israel's security measures to occur in silence.

"The harm to Al-Aqsa is a red line. I am willing to lose everything in order to stop this degrading treatment towards the worshippers. We still insist on not entering the Al-Aqsa mosque through metal detectors," he said in an interview with Ynet.

"I don't understand the Israeli government. What does it want from us?" asked another resident. "It's steps could lead to an explosion and extremely serious anger. If tomorrow there are more attacks, the police and the government will be responsible."

Acknowledging the sensitivity behind the new metal detectors, Prime Minister Benjamin Netanyahu insisted that they were nevertheless necessary to prevent further terror attacks. "I understand there is friction around the matter of the metal detectors. But we also understand that we can find ourselves in another terror attack like this and these means are necessary, including the security cameras that we intend to place around the area," he said.