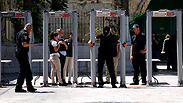 King Salman bin Abdulaziz of Saudi Arabia has asked US officials to intervene with the Israeli government to end the standoff with Muslim officials over new security measures at the Temple Mount compound, an Arabic-language website reported Tuesday.

Elaph, an online news site based in London, reported that Prime Minister Benjamin Netanyahu invited Saudi officials to visit the al-Aqsa Mosque to show the status quo has not changed.

The Prime Minister's Office and the US State Department have not responded to requests for comments.

Israeli security officials installed metal detectors at entrances to the holy site after three Israeli Arabs killed two Israeli policemen at the Lions' Gate, adjacent to the Temple Mount, last Friday.

However, Muslim officials have refused to submit to the new security measures, calling them a violation of the status quo granting the Jordanian-appointed Waqf (Islamic trust) control over the compound.

Islamic officials have held prayers outside the compound for the past several days, and Arab residents of Jerusalem have clashed with police at flashpoints around the city.

The Mount is holy to Jews as the site of the first and second Temples, and to Muslims as the Noble Sanctuary, the third-holiest spot in Islam.

Article reprinted with permission from TPS.