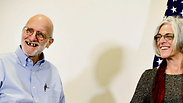 US Jew released from Cuba immigrates to Israel
Alan Gross, who was imprisoned in Cuba on espionage charges in 2009, immigrates to Israel with his wife Judy after being freed in exchange brokered by President Obama. Gross claimed that one of the reasons for his immigration to Israel was the desire to change the political situation: 'If Jews do not like what is happening in Israel, the solution is to immigrate to Israel and vote.'
Two and a half years ago, former US President Barack Obama announced the renewal of relations with Cuba after a stalemate of more than 50 years.

On the sidelines of the announcement, Obama announced a prisoner exchange deal in which Alan Gross, a Jew from Maryland who worked in Cuba as an employee of a humanitarian organization and built Internet infrastructures, was returned to the US.

Gross was arrested in 2009 on charges of smuggle into Cuba sophisticated technological equipment to undermine the government and sentenced to 15 years in prison.

He served five of them, was released—and now lives in Tel Aviv with his wife, Judy, after immigrating.

Gross, 68, revealed the trauma he underwent in an interview with US television program 60 Minutes program. "They threatened to tear off my fingernails and hang me. I lost 50 kilograms and five teeth because of lack of nutrition." To stay fit, he walked in circles in his cell in a military hospital in Havana, where he was imprisoned.

In order to raise awareness of his condition, he even embarked on a hunger strike. He was released on the day of Chanukah in 2014.

Last May, the Gross family received permission to immigrate to Israel under the Law of Return.

Gross told the Jewish American news agency JTA that he visited Israel "at least 60 times" before immigrating to Israel.

The couple has daughter who lives with her partner in Jerusalem, and another daughter who lives in Oregon.

Gross added that he likes to walk the streets of Tel Aviv and claimed that one of the reasons for his immigration to Israel was the desire to change the political situation: "If Jews do not like what is happening in Israel, the solution is to immigrate to Israel and vote."

When asked if he would go back to Cuba, Gross said, "Without a thought."