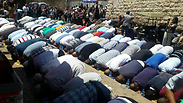 Police may deny Muslims from entering Temple Mount over security concerns
Police is mulling over whether to deny Israeli Muslims entry to the Temple Mount on Friday, due to security concerns; many Muslims express anger over the debate, saying that they will arrive at the site's Al-Aqsa Mosque 'at any cost.'
Israeli Muslims were furious Wednesday over the publication of a recommendation to prevent the arrival of worshipers from the Triangle, the Galilee and the Negev to the Al-Aqsa Mosque on Friday, due to worries over possible riots.

Many citizens said that these steps would not help the police and that they would reach the Mount "at any cost." Some said they were ready to go to Jerusalem a few days in advance if necessary.


Muhammad Masarwa, a resident of Wadi Ara, said: "Preventing worshipers from reaching the Al-Aqsa Mosque is a foolish step that will lead to more incitement on the Muslim side. This is an undisputed right, the Al-Aqsa Mosque is ours and we will not give it up."

"Apparently the Israeli government will continue with its stupid stubbornness," he added. "It does not understand that the Al-Aqsa Mosque is a red line and any damage to it will lead to a struggle that will not stop."

Aisha, a resident of Ramallah, said: "I call on the prime minister—it is better for the state to calm things down and not to escalate matters further. The government is putting its hands on a very religiously-sensitive place, the current situation will incite the Muslims in the country and I believe that even outside the country (as well—ed)."

"On Friday we will go to the Al-Aqsa Mosque, and every Muslim must be there, especially because of the (recent) tension, in order to raise our cry, and if the government sees itself as a democratic state then it has no right to prevent us from reaching our mosque," she added. "In any case, if the police stop us, we will pray in the middle of the road."

The Waqf (Jordan-led security in charge of the peace at Muslim sites in Jerusalem) expects a very large number of Israeli Muslims to come from the north and south to participate in mass prayers on Friday. On Wednesday, the Waqf announced that all mosques in Jerusalem would be closed on Friday in order to bring as many Palestinians as possible from east Jerusalem to the Old City.

All this will increase the chances of clashes between the worshipers and the security forces upon the conclusion of the prayers. In light of this, the security establishment is formulating a recommendation that Israeli Muslims should be prevented from participating in the mass prayer.

In recent days, growing numbers of Muslim worshippers have performed prayers in the streets rather than pass through metal detectors. On the sidelines, Palestinian stone-throwers have clashed with Israeli police firing tear gas and rubber bullets.

Both sides—Israel and the Waqf—understand that they will have to go down a few steps on the ladder if they want to reach a compromise. In assessing the situation and outside it, options are also being examined that include softening the Israeli decision to place metal detectors at the gates of the mountain complex.