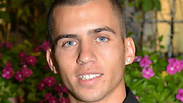 Oron Shaul's mother: My son was kidnapped
Zehava Shaul questions IDF's determination her son was killed in Gaza when an anti-tank missile hit the APC he was in during Operation Protective Edge; 'Oron wasn't in the APC. He's being held by Hamas, and we don't know what his situation is,' she says at rally marking 3 years to the battle.
Zehava Shaul, whose son Staff Sgt. Oron Shaul was killed during Operation Protective Edge and then snatched by Hamas, claimed Wednesday it still remains unclear whether her son is dead or alive.

Shaul and six other soldiers were killed when a Golani armed personnel carrier (APC) was hit with an anti-tank missile in the Gaza City neighborhood of Saja'iyya on the second day of the ground offensive. While the bodies of the other six soldiers were recovered, Shaul was missing in action.

The next day, Hamas announced it had kidnapped an Israeli soldier, naming Shaul in its statement. The news was welcomed on the Palestinian street with dancing and sweets.

After investigating the incident, the army declared Shaul missing. Shortly after that, he was declared a fallen soldier whose place of burial was unknown. The family refuses to accept this definition, even though they sat shiva (Jewish week of mourning) over him.

"The entire people of Israel should listen, internalize, and know—Oron wasn't in the APC, Oron was kidnapped. He's being held by Hamas, and we don't know what his situation is," she told the 3,000 attendees at a rally marking three years to the battle.

Oron, she said, "was outside the APC and was engaging in battle with Hamas and was kidnapped through one of the tunnels. I repeat and stress—my son, a Golani soldier who went in (to Gaza) with his friends, was not inside the APC when it was hit."

She described the past three years, saying "our world ended and we stopped truly living because we don't know his fate. Three years of suffering and wondering that, after two years, overwhelmed my husband Herzl who passed away feeling great sorrow and pain, leaving me a will to not let go and bring our son back to the country he so loved. You know what this uncertainty does to a mother: There is no day or night, there are no Shabbats or holidays."




Zehava Shaul called on "the Defense Ministry, the IDF, the Israeli government and the one at its head, every minister and member of Knesset—you are the public's representatives. Do your duty to the soldiers you send to battle, show them they are not forfeited, prove this by bringing back my son Oron, who went out to defend every one of us. Gentlemen! Three years are more than enough! Bring my son Oron home and me and his siblings back to life."

The rally, which was held in Tiberias, was attended by the Golani Brigade Commander Col. Shlomi Binder, the brigade commander during Operation Protective Edge Brig. Gen. Ghassan Alian, Labor party leader Avi Gabbay, Communications Minister Ayoob Kara, MK Shuli Mualem (Bayit Yehudi), Tiberias Mayor Yossi Ben-David and the head of the Jordan Valley Regional Council Ido Greenbaum.

Also among the 3,000 attendees was Noam Shalit, whose son Gilad was kidnapped by Hamas and returned in a prisoner exchange deal, and Yaakov and Tzipora Avitan, whose son Adi was kidnapped by Hezbollah along with two others and killed by his abductors. Varda Pomerantz, whose son Daniel was killed in the same battle as Oron Shaul did, also attended the rally.