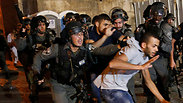 Clashes with police at Temple Mount's Lions' Gate
Photo: Reuters
Muslims clash with police at Temple Mount, ahead of Friday's 'day of rage'
Muslim Rioters hurl bottles of water and stones at policemen near Temple Mount's Lions' Gate; police react with stun grenades, as about 10 demonstrators lightly injured; PM Netanyahu convenes security meeting meeting ahead of expected violent protests on Friday; Hamas threatens to ignite the area tomorrow in the face of the Temple Mount security measures crisis.
Clashes broke out Thursday evening between hundreds of Muslim rioters and Israel Police forces at the Lions' Gate at the entrance to the Temple Mount in Jerusalem. Demonstrators hurled bottles of water and stones at policemen near the gate, with the police responding with stun grenades. About ten demonstrators were lightly injured and treated as a result of the clash. The rioters made it clear that they would not leave until the metal detector set up at the site after last Friday's deadly terrorist attack will be removed.
Gaza-based terrorist group Hamas threatened to ignite the area in a "day of rage" tomorrow in the face of the Temple Mount crisis, over what protestors are calling a breaking of the status quo at the holy site, important to both Muslims and Jews.
Returning to Israel from his European trip, Prime Minister Benjamin Netanyahu convened a security meeting on Thursday in preparation for the expected escalation at the entrances to the Temple Mount on Friday. Unless a last-minute solution to the crisis is not found, Friday prayers may become the focus of extensive confrontations in Jerusalem and throughout the West Bank and the Gaza Strip.