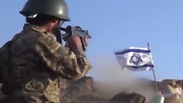 Houthi rebel leader Abdul-Malik Badreddin al-Houthi made a speech marking the beginning of the Houthi Rebellion in Yemen in 2004, saying that his group will "take part in any military confrontation against Israel."

Al-Houthi also directly addressed Hezbollah—which has already threatened to recruit foreign fighters in a confrontation against Israel—and Secretary-General Hassan Nasrallah, vowing to send fighters in the next war.

"The Yemeni nation is ready to take part in any future confrontation against the Israeli enemy," said al-Houthi, who also emphasized that Israel should "take us into consideration in all future conflicts with Hezbollah and the Palestinian people."

Al-Houthi added, "We emphasize to Nasrallah that your reliance on the Yemenite people is in place. The Yemenite people will have a respectable position in every confrontation you will have with the Israeli enemy. We are ready to send the fighters."

In a speech given last month by Nasrallah, the Shiite terrorist leader said, "If Israel launches a war against Lebanon or against Syria, the skies may open to hundreds of thousands of jihad fighters who can come from Iraq, Yemen, Iran, Afghanistan and Pakistan."

Houthi fighters train against Israeli "targets"

Since March 2015, Arab Gulf states led by Saudi Arabia have been engaged in a military campaign against the Houthi rebels with the aid of helping Yemeni President Abdrabbuh Mansur Hadi to reassert control over his divided country.

In recent months, Houthi rebels have documented their military maneuvers, showing how they are training for capturing Israeli positions. In the videos—which document their actions against the vessels of the Arab coalition countries in the Red Sea or the launching of ballistic missiles into Saudi Arabia—their slogan always reads, "Death to the United States and Death to Israel."

Iran and its allies are believed to be assisting the Houthi rebels both in terms of training and weapons.