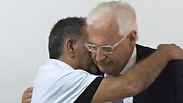 David Friedman during the visit
US Ambassador to Israel David Friedman paid a condolence visit Thursday to the families of the two police officers who were murdered last friday in a terror attack by three gunmen at the Lions' Gate at the Temple Mount.

Hugging the families of Staff Sgt. Maj. Ha'il Satawi, 30, and Staff Sgt. Maj. Kamil Shnaan, 22, of Maghar and Hurfeish, respectively, Friedman told them: "We have to make sure that no family suffers like this."

Satawi, 30 is survived by a three-week-old baby, Ramos, his wife Arin, his parents and three siblings. Shnaan, 22, was the son of former MK Shachiv Shannan.

He was recruited seven months ago into the Israel Police where he served as a patrol officer in the Temple Mount Unit in the Jerusalem District.

"While Israel is dealing with required security matters in order to return security to the Temple Mount, we cannot forget that 100 kilometers north of Jerusalem, two wonderful families are suffering," Friedman said at the end of his visit.

"Their precious sons, one of them a father to a three-week-old baby, were taken from them in a terror attack at one of the holiest sites in the world. The families should be in everyone's prayers and we need to focus on ensuring that no other family should have a reason to suffer this way."

Friedman also echoed the worries expressed by the White House yesterday, stating that is was "very concerned" over the escalation of violence on the Temple Mount.

"The US is very concerned about the situation on the Temple Mount and calls upon all the sides to find a solution that ensures safety and security at the site and preserve the status quo."

Thousands of Israeli police began taking up positions at the holy site following a decision taken Friday morning to keep recently installed metal detectors there for the time being in response to last Friday's attack. While a number of other alternatives were considered, the police ultimately decided that the metal detectors were of paramount importance for maintaining security.