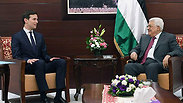 Mahmoud Abbas and Jared Kushner
Photo: Getty Images
Palestinian Authority President Mahmoud Abbas has reached out to US President Donald Trump's top Middle East advisor and son-in-law Jared Kushner, asking him to exert pressure on Israel to remove metal detectors installed at the entrance of the Temple Mount in Jerusalem in response to a deadly terror attack the area last Friday.

During their conversation, Abbas attempted to solicit a US commitment to ordering Israel to back away from the area by explaining to Kushner the severity of the crisis, warning that it could spiral out of control if Israel doesn't withdraw its beefed-up presence and immediately take the detectors down.

Abbas returned to Ramallah in the middle of visits abroad in order to tend to the precarious developments in the Israeli capital. To that end, the Executive Committee of the PLO and the Central Committee of Fatah is preparing to hold an emergency meeting Friday to formulate an official position on how to handle the matter.

After discussions were held in the Security Cabinet overnight Thursday, police were said to have been given a free hand on deciding whether the metal detectors remain in place or are taken down.

However, it was not immediately clear who was ultimately responsible for the final decision, with the police insisting that the outcome of the talks was the result of choices by the political echelons.

Either way, thousands of police officers have been sent to deal with violent eruptions ahead of Friday's mass prayers at Al-Aqsa mosque on what has become over the last few days an extremely volatile and volcanic Temple Mount.

Additionally, in a bid to minimize levels of violence, Israeli security forces will be restricting entry into the Old City to men aged 50 and above. Women of all ages will be permitted to enter as usual.

Palestinian security officials have already informed their leaders of the immense pressure they are facing in east Jerusalem and in the West Bank since the inception of the crisis in areas which fall under their security jurisdiction.

Matters are only likely to be exacerbated by the calls from Gaza by the Hamas terror group to stage a 'day of rage', placing a further burden on Israeli forces which have been deployed to the southern border to repel any possible attacks launched from the strip.