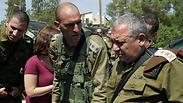 Eisenkott breifed at Halamish
Photo: IDF Spokesperson's Unit
IDF to demolish home of teen terrorist who called for more violence before attack
19 year-old terrorist posts on Facebook before attack, 'I have only a knife, and it will respond to Al-Aqsa's cry'; terrorist moderately injured and is treated for wounds; military chiefs meet as IDF arrests terrorist's brother.
At about 21:30 on Friday, Omar al-Abed, 19, from the village of Kobar, broke into a family home in the West Bank settlement of Halamish while they were sitting for a Friday night meal, and proceeded to murder a 70-year-old grandfather and his son and daughter, both in their thirties. A few hours before he embarked on the murder, he wrote a post on his Facebook page, as a sort of "last will and testament" aimed at other Palestinians.

"My will to you. I am a boy who has not yet reached 20. I have many dreams and aspirations, I know that with my Allah's help my dreams will come true. I've loved life, making people smile, but what kind of life is this? They kill our women and young people, soil Al-Aqsa while we stay asleep," wrote al-Abed.

IDF arrive at terrorist's village and home

"Take up your weapon and resist, declare war for Allah. They closed Al-Aqsa, and what about your weapon? I have only a knife, and it will respond to Al-Aqsa's cry. You are spreading a civil war among us and Allah will judge you for this. We are all sons of Palestine and Al-Aqsa. The sons of monkeys and pigs do not open the gates of Al-Aqsa. I hope that men will come after me to strike me with an iron hand. I am going to heaven to be next to Allah. My mother, my father and my sisters, I am going to heaven, that is my home. I do not want anything beyond that.

"Allah will judge those who do not fulfill my will," ended al-Abed. "We are all one, we have one blood, one enemy and one Al-Aqsa."




Hamas praised al-Abed's attack and called it a natural response to the recent developments at the Al-Aqsa Mosque, referring to the metal detectors installed by Israel following last week's deadly attack at the site. Hamas's statement said that it "welcomes the heroic attack that comes in the wake of Israel's violation of the rights of our people in Jerusalem and the Al-Aqsa Mosque."

New security measures were set up at the entry gates to the Temple Mount by Israel, following the deadly terrorist attack that took the lives of two Israeli police officers last week. The added security measures caused a wave of backlash in the Muslim community, with Friday night's deadly terrorist attack carried out by al-Abed, earlier clashes with Israel Police in which three Palestinian protestors were killed, as well as wide scale protest prayers and riots around Jerusalem.

A senior military official said that "the terrorist was loyal to Hamas but was not an activist," and that "he had bought the knife in the last two days with the intent of causing harm in response to the events at Al-Aqsa. He apparently infiltrated (Halamish—ed) by jumping over (its security) fence. He posted on Facebook a few hours before the attack."

Following the attack, IDF Chief of Staff Gadi Eisenkott and Defense Minister Avigdor Lieberman arrived at Halamish and were briefed of the situation.

The IDF Spokesperson's Unit issued a statement early Saturday, saying that in response to the Halamish attack, the IDF's Binyamin Brigade embarked on an extensive operation in his hometown village of Kobar.

As part of the operation, the IDF brigade, special units and the Shin Bet encircled the village and the exit from it will be possible only in humanitarian cases.

So far, IDF forces have mapped out the terrorist's home in preparation to its demolition, as well as carrying out extensive weapons searches, confiscating terrorist funds and arresting the terrorist's brother Monir, 21.

Israel's military said it has sent more troops to the West Bank after a Palestinian infiltrated a settlement and stabbed three Israelis to death in their home.

The decision came Saturday after high-ranking military officials met overnight following the attack.

The IDF did not elaborate beyond the above statement, but said it was in addition to hundreds of soldiers in place Friday over tensions at a major Jerusalem shrine.

In addition, Jerusalem Police reported that four suspects (including a minor) from the Old City of Jerusalem were arrested for participating in riots during Friday.

In the Jerusalem neighborhood of Silwan, a number of Molotov cocktails and rocks were thrown at policemen.