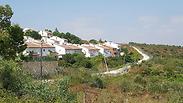 The settlement of Halamish
Deadly Halamish attack hits family celebrating grandson's birth
An initial investigation finds settlement's perimeter fence was activated when terrorist jumped over it; wife of murdered son manages to save herself and the 5 children who came to visit their grandparents by hiding them in a nearby room.
As details of the murderous terror attack in Halamish began to emerge, it came to light that the family whose home was attacked in the West Bank settlement was gathered for what was supposed to be a happy occasion: the birth of a new grandchild.

The attack took place on Friday night at around 9:30pm, when ten members of the family sat down for Friday night dinner as well as to celebrate a new grandchild.

A preliminary investigation found that that the terrorist, 19-year-old Omar al-Abed from the nearby village of Kobar, surprised the family and managed to stab four of its members.

The day following the attack (צילום: גיל יוחנן)

The family's 70-year-old grandfather, who lives in the house that was broken into, was murdered by al-Abed, as were his 35-year-old son and his daughter, who was in her 40s.

The family's grandmother, 68, was seriously wounded and evacuated to Shaare Zedek Medical Center in Jerusalem. Following surgery, she was stated to be in good condition. She was given the news of the deaths of her husband and children after she awoke.

The wife of the murdered son managed to save herself and the five children who came to visit their grandparents by hiding them in a nearby room, after which she called the police and shouted there was a terrorist in the house who was stabbing those still in the living room. Rescue teams were alerted and rushed to the scene.

A childhood friend of the murdered man told Ynet that his wife, whose resourcefulness secured the children's safety, "is an amazing woman, and anyone who knows her is not surprised that this is how she acted." The murdered son and his family live in the central city of Elad.

The victims fought the terrorist and shouted for help. A neighbor who is also a paramedic serving in the IDF's canine Special Forces unit Oketz heard their cries and quickly responded by shooting the terrorist through a window, thereby preventing more casualties among the family.

Another paramedic, who treated the victims of the attack, said the terrorist was lying next to his victims after being shot. He then tried to attack the paramedics, but was stopped by security forces who had also arrived at the scene. The terrorist was evacuated to Beilinson Hospital in Petah Tikva for treatment, and has since been released and taken into custody.
Terrorists wrote 'will' on Facebook before attack
Before going on the attack, he wrote a post on his Facebook page, as a sort of "last will and testament" aimed at other Palestinians.
"My will to you. I am a boy who has not yet reached 20. I have many dreams and aspirations, I know that with Allah's help my dreams will come true. I've loved life, making people smile, but what kind of life is this? They kill our women and young people, soil Al-Aqsa while we stay asleep," wrote al-Abed.
"Take up your weapon and resist, declare war for Allah. They closed Al-Aqsa, and what about your weapon? I have only a knife, and it will respond to Al-Aqsa's cry. You are spreading a civil war among us and Allah will judge you for this. We are all sons of Palestine and Al-Aqsa. The sons of monkeys and pigs do not open the gates of Al-Aqsa. I hope that men will come after me to strike me with an iron hand. I am going to heaven to be next to Allah. My mother, my father and my sisters, I am going to heaven, that is my home. I do not want anything beyond that.
"Allah will judge those who do not fulfill my will," ended al-Abed. "We are all one, we have one blood, one enemy and one Al-Aqsa."
Immediately after posting to Facebook, the terrorist made the 2.5 km journey by foot from his village of Kobar to the Halamish settlement, which took him about an hour and 40 minutes. He was carrying a bag that contained a wallet and a Quran. The terrorist told his brother was going to visit friends.
Before infiltrating the settlement, he "purified" himself by spraying water on himself from a bottle he had, thinking he would not survive the attack.
While Halamish's perimeter fence was activated, al-Abed was still able to jumped over it. The fence did set off an electronic alert, calling security forces to the scene. He was able to reach about 100-150 meters into the settlement before entering his victims' home.
The family home where the attack took place sits on the edge of the settlement and near the perimeter fence, a fact that the terrorist apparently took advantage of. He also took advantage of the fact the door of the family home was not locked to enter.
Al-Abed was able to carry out the attack despite the fact there is an entire IDF company stationed in Halamish.
According to the terrorist's father, his son carried out the attack in response to the new security measures the were set up at the entry gates to the Temple Mount by Israel, following the deadly terrorist attack that claimed the lives of two Israeli police officers last week.
"The honor of Muslims is the only Haram," Mohammed al-Abed said. "If it's gone, the Muslims' honor is gone. This was the motive for my son."
The added security measures has caused a wave of backlash in the Muslim community, including clashes with Israel Police in which three Palestinian protestors were killed, and wide scale protest prayers and riots around Jerusalem.
In a video that was circulated after the attack, al-Abed's mother could be seen saying, "I am proud of you, my son, and I hope that Allah will receive you."
Ibrahim al-Abed, an uncle of the terrorist, said his nephew had been arrested three months ago by PA security forces. The uncle said his nephew had spent two weeks in detention and was violently interrogated about alleged plans to attack Israelis before he was released.
The Associated Press contributed to this report.