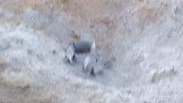 The rocket remains from Sunday's launch
An IDF tank attacked a Hamas station in the southern Gaza Strip on Sunday night after a rocket was fired at an open area in the Eshkol Regional Council, causing no casualties or damage. No alarm was sounded, since the rocket fell in an unpopulated area.

On Sunday, a previous rocket hit an open area in the Sha'ar Hanegev Regional. As was the case on Monday, there were no casualties or damage. Last month, the IAF attacked two Hamas targets in the northern and southern Gaza Strip in response to rocket fire at the Sha'ar Hanegev Regional Council.

The IDF said in response to Monday's attack that "as a terrorist organization, Hamas is the ruler of the Gaza Strip, and it is responsible for any attempt to harm the State of Israel." The Palestinians reported that the IDF's response attack targeted two stations of the Hamas military wing, one in Gaza City and the other in Rafah. There were no casualties or injuries reported from either station following the IDF attack.