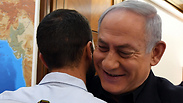 Netanyahu meets with guard
Photo: Haim Zach/GPO
Prime Minister Benjamin Netanyahu met "Ziv"—the Israeli embassy guard who killed two Jordanians after being attacked and stabbed at the Israeli embassy in Amman—in his office Tuesday morning.

Ziv and the rest of the diplomatic staff returned to Israel Monday night after being on lockdown in Amman following the attack.

"I am happy to see you here and that things ended the way they did. You acted well, calmly, and we also had an obligation to get you out. This was not even a question. It was only a question of time and I am pleased that it was short," said Netanyahu.

During the meeting, Ziv told the prime minister, "A weight has been lifted from my heart. Thank you from my heart. I am happy to be here. Einat and I felt that people were standing behind us and were making every effort, we felt this and I am glad that we are here."

Israeli Ambassador to Jordan, Einat Schlein echoed Ziv's sentiments and thanked the prime minister, saying, "It's good to be home. Everything is excellent."

Ziv was stabbed twice by a screwdriver-wielding terrorist in the chest and back near the embassy's residential compound in Amman. Despite originally demanding to question Ziv, the Jordanian General Intelligence Directorate (GID) announced that it had completed all investigations into the incident.

According to the GID, an argument ensued between Ziv and Mohammed Zakariya al-Zawawdeh over furniture work that was not completed on time. The 17-year-old Jordanian then stabbed Ziv twice before the Israeli guard managed to shoot him.

In the struggle, the building landlord, a Jordanian physician, was struck with a stray bullet and later succumbed to his wounds.

The Prime Minister's Office said that the return of the emissaries was made possible thanks to close cooperation between Israel and Jordan over the past 24 hours.

Sources in both Jordan and Israel surmised that the return of the security guard and the delegation to Israel was part of a deal between Netanyahu and King Abdullah, which included the removal of the metal detectors and cameras from the Temple Mount.

Following the release of the guard, members of the Jordanian parliament angrily chided the government and demanded a detailed account of the GID's investigation into the incident.