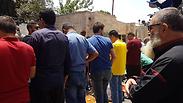 Worshippers continue to protest
Waqf officials will present a preliminary report on changes Israel plans to make in the Temple Mount area and are currently calling on worshippers not to return to normalcy. As such, Tuesday afternoon prayers were again held outside the compound.

Tuesday morning prayers (צילום: עפר מאיר)

Salah from Silwan arrived Tuesday morning to pray at the Temple Mount.

"I came here with my children, like I do every day, and I waited to see if the Mufti was satisfied with removing the metal detectors and would announce the end of the protest. Now the Waqf has said no. It is impossible to accept the smart cameras they plan to install here or the increased police presence that checks every woman or girl," he said.

Another east Jerusalem resident who arrived to hear the Waqf's decision said, "I waited to see what the Waqf said and now we have been informed that the decision is still not to enter the Temple Mount," said the man.

"It's true that they removed the metal detectors and the cameras, but they are going to install something worse (the smart cameras). We cannot agree to this change in the status quo. We can continue to pray outside the complex, in front of Al Aqsa, as we have done the last few days, until the situation returns to how it was."

Avigdor Kahalani, who served as minister of public security in the first Netanyahu government in 1996 during the Kotel tunnel riots, said, "The metal detectors are necessary, but we have a problem in that we need to navigate this minefield.

"They (the cabinet) surrendered very quickly and they (the Waqf) understand that. It is obvious that our image in the world has been harmed, and in the eyes of Muslims this is true without a doubt. In the end, we need to look at the advantages and the disadvantages. Is this the right consideration at the moment? No, but we need to be sharp in order to get out of this."