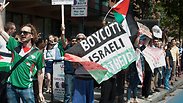 BDS protest in London 2014
Photo: Citizenside.com
NEW YORK - Five US Jewish, Christian and Muslim leaders were barred from going to Israel under a new law that prohibits entry to the Jewish state by foreign activists who advocate a boycott of the country.

Interior Minister Aryeh Deri said in a statement Tuesday the five had a long record of advocacy for the movement known as BDS, which seeks to ostracize Israel by lobbying corporations, artists and academic institutions to sever ties with the Jewish state.

It is the first time the Israeli government has implemented the policy, which won approval in March, allowing authorities to keep out non-citizens who publicly support a boycott of Israel or work for an organization that does.

Supporters of BDS—which stands for boycott, sanctions and divestment—say they are using nonviolent means to promote the Palestinian independence efforts. The movement has grown into a global network of thousands of volunteers, from campus activists to church groups as well as some Jews.

Israel says the campaign goes beyond fighting on behalf of Palestinians and often masks a more far-reaching aim to delegitimize or destroy the Jewish state. Some critics accuse the BDS movement of anti-Semitism because it singles out Israel for boycott while overlooking the Palestinian part in the conflict and ignoring countries with poor human rights records.

The five American leaders who were barred from entry were from the advocacy groups Jewish Voice for Peace, American Muslims for Palestine and the Presbyterian Peace Fellowship, which is active within the Presbyterian Church (USA), a Protestant denomination that voted three years ago to divest from some companies in protest of Israeli treatment of Palestinians.

Rabbi Alissa Wise, deputy director of Jewish voice for Peace, which has chapters around the country, said she and four other leaders were scheduled to join a larger interfaith delegation that planned visits with human rights activists in Israel and the West Bank. She said they went to check into a Lufthansa flight last Sunday night at Washington Dulles International Airport when they were told that the airline had an order not to allow them to fly all the way to Israel. They were told they could fly as far as Frankfurt, Wise said.

Tal Muscal, a spokesman for Lufthansa, said each country sets its own entry requirements. "Lufthansa has no influence regarding the implementation or enforcement of such regulations," Muscal said.

Tzahi Gavrieli, an official at Israel's ministry of strategic affairs, said the entry ban is strictly for those who are "undertaking ongoing consistent and significant actions to promote and advance a boycott of Israel." He said the ban is aimed at "individual activists who are major players, senior leadership in the BDS movement worldwide."

Wise said the policy calls into question Israel's commitment to democracy. "It crosses the line to stop peace activists from entering the country," she said in a phone interview from her Philadelphia home. She said she wasn't surprised by what happened, given the new Israeli policy, but said, "it's much more heartbreaking than I even anticipated."