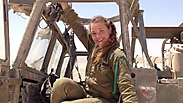 They came to Israel to enlist in the military: 'Israel is home'
Last month, a 'Fun Day' was held for some 6,000 lone soldiers serving in the IDF. In a conversation with Ynet, they talk about their decision to leave everything behind, put on a uniform and even make Aliyah; 'I wanted to do something meaningful with my life,' says Oren, who made Aliyah from the US, and who plans on developing his life here 'like every Israeli.'
They left their families, friends, and home countries, and came to Israel with one goal in mind: to enlist in the IDF.
Thousands of Jews from around the world come to Israel every year to enlist, and some of them remain in Israel after they complete their military service. In order to thank these lone soldiers, last month the Friends of the Israel Defense Forces (FIDF) and Yachad Le'maan Ha'chayal (The Association for the Wellbeing of Israel's Soldiers and The LIBI Fund) held an event to salute them. Ahead of the event, we spoke with some lone soldiers who love Israel and feel Israeli in every respect.
FIDF supports Lone Soldiers in various ways, with some services provided in partnership with organizations such as the International Fellowship of Christians and Jews, Nefesh B'Nefesh, and Ach Gadol (Big Brother).
Oren Borstein, 21, came to Israel from New York, following in the footsteps of his older brothers, and now serves in the Givati Brigade. In a conversation with Ynet, he explains what led a young American to give up the idea of college and enlist in a combat unit: "I came because of the education I received at home. My father spent a few years in Israel, served in the army, left the country, and married my mother. I heard about Israel all my life, and I grew up in a Zionist atmosphere. They were always saying, 'Israel is home.'"
And then came the decision to leave everything and come to Israel. "At the age of 17 – 18, when all my friends were on the way to college, I said to myself that all my life I had heard 'Israel is home.' And I didn't feel so connected to American culture. I wanted to do something meaningful with my life," he says.
Oren has been in Israel for four years, and, in November 2014, he enlisted to Givati, the brigade in which his two older brothers served. During his military service, the family was struck by a tragedy when his brother Koby was killed in a traffic accident near Beit Shemesh. "I have relatives in Israel. I live on a kibbutz, and I have been adopted by a family," he says about his life today. And what does he plan to do after the army? Oren does not hesitate in his reply: "Like every Israeli—to travel a little and then return to study and work here in Israel."
Also from the United States are Guy Zohar, 20, and Meital Shetlung, 20, who came from California to serve in the IDF. The two were together in the Jewish youth movement Garin Tzabar in America, and today are a couple. Meital, who comes from Orange County in south California, completed an officers' course and is now serving as a coordination officer in Bahad (Training Camp) 1.
Meital says that she and her family immigrated to Israel when she was four, and four years later the family returned to the United States. In 2014 she made Aliyah on her own. "I joined Garin Tzabar and made Aliyah with the group. We lived in Nir Yitzhak, in the Gaza envelope," she says. "I enlisted in the IDF and I was an artillery instructor for about a year before taking an officers' course. I completed the course and was assigned to Bahad 1."
She lists her reasons for deciding to enlist in the IDF: "I wanted to immigrate because I feel more connected to Israeli culture, it is a different culture. People are different. There is simply more connection with people here. There is a kind of fellowship here."
Some of the soldiers hardly have a trace of a foreign accent, and one of these is Guy, who comes from Los Angeles. He says that both his parents are Israeli, and they moved to America after serving in the IDF. Today he is a commander in the Paratroopers Brigade. "There is a huge community of Israelis in Los Angeles. I felt I belonged to Israel. If I didn't do military service, I would think to myself 'what did I do for my country?'" he says. "I made Aliyah with Garin Tzabar, which is connected to the Scouts movement. Meital was in my group. We got to know each other there. When we came to Israel, we got to know each other better. We have been together since we drafted in December 2014."
And they also have joint plans for the future, which naturally relate to Israel. "We will both complete our service a week apart," says Guy. "After I'm discharged, I will go and work for a while, travel for six to eight months, and then I hope to come back and study here." Meital also plans to stay in Israel. "I will take a trip and come back. I see my life being here in Israel," she says.
Lone soldiers don't only come to the IDF from the United States; they also come from Europe. Ruben Kabilia, 29, came to Israel from Italy, after having already completed a graduate degree in law. He is currently serving as a combat soldier in the Nachal Brigade.
Ruben talks of how the idea of coming to Israel and enlisting in the IDF came about: "At the age of 20, I wanted to enlist, but my family was very concerned. So I said, 'Alright, perhaps this is just a little dream, perhaps I'll forget about it later.' I completed my studies, and thought about the military. I did not want to spend my whole life thinking that I hadn't yet done something. It was really hard, because of my age. But, thank heavens, I completed combat training and survived."
This month, Ruben successfully completed the final "beret trek," and his parents came to Israel especially for the ceremony: "This is something that comes from the soul. I always felt, even in Italy, that I wanted to help the Jewish community in Rome, but I felt that this was not enough," he says. "I said that enlisting would make me feel better inside. People like me have to protect the State of Israel. I wanted to do something in order to feel better all my life. I know that I have done my bit. It was hard with my family, at first they did not accept my decision."
And what does he plan to do after he completes his service? Ruben is still making up his mind: "I am at an age when I need to find a good job, and to build a family. I don't know if I will stay. Now I know how much I miss my family, and how much my family misses me. I will wait until the end of my military service and see what work is available here. Life is full of surprises."
And there is also a representative from South America. Sharon Dorot, 21, came from Brazil with her twin sister Yarden, and they both enlisted in the IDF. After a Hebrew language course at Michve Alon, Sharon went on to serve in a coed combat infantry battalion, Bardelas. Regarding her decision to leave Brazil and come to Israel, she says: "I wanted to come to Israel and enlist in the army. My sister said 'okay, I'll come too.' But now we are in the army—we are not together."
Sharon says that she had already been to Israel in the past and studied Hebrew at an ulpan, and when she returned to Brazil she took the decision to leave everything and come to Israel with her twin sister.
The FIDF and Yachad Le'maan Ha'chayal, in cooperation with the IDF, are to hold the "Putting on Flip Flops" event to salute lone soldiers on Thursday, at Shefayim Water Park, with some 6,000 lone soldiers from every corner of the world, some 1,000 welfare officers who accompany the soldiers during their military service, officers and commanders, FIDF supporters, and representatives of FIDF and Yachad Le'maan Ha'chayal.
The event aims to provide the soldiers with a refreshing break from their daily routine, and expressed gratitude and appreciation for their unique contribution to the State of Israel. As part of the event, there was a special performance by the band Strong Black Coffee in honor of the soldiers.
In cooperation with FIDF and Yachad Le'maan Ha'chayal.