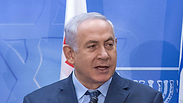 Netanyahu advances Greater Jerusalem Bill
Netanyahu pushes to advance the Greater Jerusalem Bill, which seeks to establish a greater Jerusalem metropolitan area; many believe push meant to strengthen Jewish connection to Jerusalem while making up for perceived capitulation over Temple Mount metal detectors.
Prime Minister Benjamin Netanyahu announced his intention to advance the Greater Jerusalem Bill.

The bill seeks to annex several local authorities in the West Bank that are attached to Jerusalem with the intention of creating a greater Jerusalem metropolitan area. However, it is important to note that the localities will not be politically annexed.

Ma'ale Adumim, Gush Etzion, Efrat, Beitar Illit and Givat Ze'ev are all slated to be included.

According to the bill and the law, residents whose authorities are annexed into the greater Jerusalem area will be citizens of the capital and eligible to run for mayor or for the local councils in which they live.

The aim of the bill, which is being led by Minister of Transportation Yisrael Katz (Likud), is to "strengthen Jerusalem by adding thousands of Jewish residents to the city, while simultaneously weakening the Arab hold on the capital."

On Wednesday, Netanyahu instructed MK Yoav Kish (Likud) to advance the bill at the opening of the Knesset's winter session. Sources in government believe the instruction "comes against the background of the metal detectors crisis and Netanyahu's need to prove significant connection to Jerusalem."