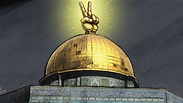 Arab and Palestinian media outlets are revelling in what is largely considered a decisive victory in the Arab world over Israel following the latter's decision to remove all recently installed security measures at the entrances to the Temple Mount.

Caricatures depicting apparent Israeli cowardice and Palestinian courage and resistance have flooded Arab media and Palestinian social media platforms.




In the London-based pan-Arab newspaper Al Quds Al Arabi for example, one cartoon portrays an ignominious Israeli defeat, accompanied by the caption: "The residents of Jerusalem are forcing the occupation to withdraw from its steps in the Al-Aqsa Mosque."

The cartoon shows a feeble-looking Israeli soldier carrying a metal detector running away from an elderly Muslim man brandishing a staff, a young Palestinian holding a rock, a Muslim woman waving a broom and a Palestinian child carrying a slingshot.

The Saudi newspaper Al Watan features a cartoon in which a shining statue sign of victory can bee seen sitting atop the Dome of the Rock.

Jordanian newspapers also jumped on the bandwagon in the campaign of ridiculing what is once again clearly portrayed as Israel's pusillanimous caving to Palestinian will.

In an illustration in the Jordanian daily Al-Rad, a barefooted Palestinian man is seen poised to stamp on another timid Israeli soldier, as a Magen David-shaped shackle tied around the 'resistor's' ankle is on the verge of breaking in half.

While Al Jazeera delivered its own illustrative gibes, they were mainly aimed at demonstrating contempt for the conduct displayed by Arab leaders throughout the crisis.

The caricature in the Qatari paper shows an Arab leader with his head buried in the ground against a background of a television screen showing Al-Aqsa next to the caption "Al-Awsa is in danger." Only once the caption changes to "Al-Aqsa victorious," does the Arab leader raise his head and pay attention.

Indeed, one cartoon credited Arab leaders for the claimed triumph over Israel. In one illustration, Palestinian Authority President Mahmoud Abbas, Jordanian King Abullah II and Saudi Arabia's King Salman bin Abdulaziz are represented as warriors carrying machine guns in front of the Dome of the Rock, as they stand together on top of a mountain under which Magen David symbols and skulls are buried.