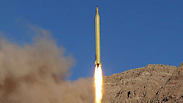 An Iranian ballistic missile launch
Photo: Reuters
US slaps sanctions on Iran after its 'catastrophic' rocket launch
After Iran's rocket launch test, the US states more sanctions to be imposed on Iran; while Iran media describes launch as success, US sources state rocket exploded before reaching space; US Senate to also impose new sanctions on Russia and North Korea.
The United States imposed sanctions on Friday on six subsidiaries of a company key to Iran's ballistic missile program, citing continued "provocative actions" like Tehran's launch of a rocket capable of putting a satellite into orbit.

Iranian state television reported Thursday that Iran had successfully tested a rocket that can deliver satellites into orbit, an action the United States and others say breaches a UN Security Council resolution because of its potential use in ballistic missile development.

Iran ballistic missile launch

US officials have long been concerned that the technology used to position satellites in space may also be suitable for the production of long-range ballistic missiles capable of hitting the US. Iran's Simorgh rocket launch is based on the North Korean missile model.

While Iranian state press reported that the test had passed successfully, intelligence agencies in the US quickly described these reports as more propaganda than fact, with two US officials telling Fox News that the rocket launch was "a catastrophic failure, as it exploded before reaching space.

Despite the supposed "catastrophic failure," the attempt to launch a rocket violates UN Security Council Resolution 2231. US State Department spokesman Heather Nauert said the United States considers this as a continuation of the development of ballistic missiles.

A joint statement on Friday from the United States, France, Germany and Britain said the launch was inconsistent with a UN Security Council resolution calling on Iran not to conduct such tests.

The US Treasury's Office of Foreign Assets Control imposed sanctions on six Iranian firms owned or controlled by the Shahid Hemmat Industrial Group. The move enables the US government to block any company property under its jurisdiction and prevents US citizens from doing business with the firms.

"These sanctions ... underscore the United States' deep concerns with Iran's continued development and testing of ballistic missiles and other provocative behavior," US Treasury Secretary Steve Mnuchin said in a statement.

"The US government will continue to aggressively counter Iran's ballistic missile-related activity, whether it be a provocative space launch ... or likely support to Yemeni Houthi missile attacks on Saudi Arabia such as occurred this past weekend," Mnuchin said.

The six Shahid Hemmat units targeted by the US sanctions manufacture missile components, missile airframes, liquid-propellant ballistic missile engines, liquid propellant, guidance and control systems. They also do missile-related research and maintenance.

The Treasury move was announced just hours after the US Senate voted almost unanimously to impose new sanctions on Iran, Russia and North Korea.

The measure put President Donald Trump, who has sought better ties with Russia, in a tough position, forcing him to either sign the bill into law or anger his party by vetoing it.

The sanctions in that bill also target Iran's missile development programs as well as human rights abuses.

The State Department charged on Thursday that Iran's test of the satellite launch vehicle was a violation of UN Security Council resolutions as well as the spirit of the multinational Iran nuclear deal, under which Tehran agreed to curb its nuclear programs in exchange for a lifting of some economic sanctions.

Washington's ambassador to the United Nations, Nikki Haley, said the Trump administration would continue to impose consequences on Iran until it complied fully with UN resolutions.

"The issue with Iran always comes back to mistrust. Iran's widespread support for terrorists tells us we can't trust them. Iran's breaking its obligation on missile testing tells us we can't trust them. Yesterday's launch proves that yet again," she said in a statement.

The Trump administration certified Iran as being in compliance with the nuclear deal last week, even though Trump has called the agreement negotiated by his Democratic predecessor "the worst deal ever."

Trump issued a veiled threat against Iran earlier this week, warning Tehran to adhere to the terms of the nuclear accord or face "big, big problems." He said in a speech in Ohio that the deal had "emboldened" Iran and added "that won't take place much longer."