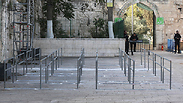 Metal detectors removed from Temple Mount
Photo: AP
Prime Minister Benjamin Netanyahu said Sunday his handeling of the crisis at the Temple Mount and his decision to place metal detectors in the area and then remove them is based on "a broad view of the challenges and threats facing us."

"Some of (these challenges and threats) are not known to the public and due to their (sensitive) nature cannot be detailed," Netanyahu said.


"I understand the public's feelings. I also understand the duty of leadership, of those who sit in this chair and carry the supreme responsibility for Israel's security, and that's how I act," he added. "I say to our enemies on all fronts: The IDF, the Shin Bet and the Israel Police are prepared to act with all their might against anyone who tries to harm our citizens, our soldiers and our policemen.

"In recent days I have instructed to reinforce the security forces on the Temple Mount and in the Old City in order to prevent disturbances and to deter lawbreakers," Netanyahu noted. "I gave the police a budget of up to NIS 100 million to create security solutions that will increase security."

The Prime Minister then addressed to the tense period after the new security measures were introduced, mostly to show his appreciation to the security forces who were tasked with maintaining the order in those difficult days.

"These were two busy weeks for our security forces, who are on constant alert for further major challenges even now," he said. "On behalf of all the citizens of Israel, I would like to thank our commanders and soldiers, the policemen and Shin Bet agents who work day and night to protect us all. I greatly appreciate their work and their deep dedication to the security of Israel."