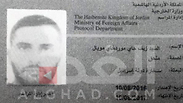 The Jordanian daily Al-Rad published Sunday morning a picture and identity of the Israeli security guard shot dead a Jordanian man who attacked him with a screwdriver and accidentally killed another man in Amman.

The newspaper published the guard's name, Ziv Moyal, 28, and his diplomatic identity card, delivering a blow to Israel which has censored the publication of the guard's details.

Last week, the Jordanians claimed it was a truck driver who stabbed the security guard, not the 17-year-old Mohammad Jawawdah who was shot dead along with the building's landlord, who was also a doctor. But by the end of the week, their version changed and is now mostly in line with the Israeli version.

To date, Jordanian media outlets have avoided publishing details and it is quite possible that the leak stems from the severe crisis between Israel and Jordan following the incident.

The same crisis was exacerbated following the publications of photos depicting Prime Minister Benjamin Netanyahu hugging the embassy guard in question.

The photos led to an unprecedented attack on Netanyahu by King Abdullah II and Jordanian Foreign Minister Ayman Al Safadi, with the two of them accusing Netanyahu of trying to raise political capital at the expense of the incident that is defined as a crime in Jordan in every respect.

Jordan is not interested in allowing Ambassador Einat Schlein and her diplomatic team to return to the Israeli embassy in Amman until a serious, in-depth investigation is conducted into the guard's conduct.

Last Friday, Jordan announced that they provided Israel a copy of the investigative report after the kingdom's Public Prosecution Office accused the security guard of murder and possessing a weapon without a permit.

The same day a fiery demonstration was held outside the Israeli embassy in Amman, where protestors demanded that the embassy be closed down in the wake of the incident.

Additionally, King Abdullah paid visits to the mourners, telling them that Jordan will not give up on its sons and would devote all efforts to ensure justice.

In the Jordanian media, the incident was largely portrayed as having caused a deep diplomatic crisis with Israel, with the Jordanian government demanding that the security guard stand trial.

On a more discreet level however, the incident was dealt with through diplomatic channels aimed at reducing tensions. The publication of the guard's details therefore, also constitutes a blow to these efforts and could affect his future career.