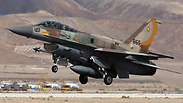 Israeli F-16 fighter jet
Photo: EPA
Iranian organization claims Israel attacked their shipment in Syria
A media non-governmental organization in Iran named 'Owj' claims equipment sent to an entertainment event in the town of Aleppo was attacked in Damascus International Airport by Israel; Arab media, including in Syria, did not report the alleged incident.
Iranian news agencies Fars and Mehr quoted Owj—a non-governmental organization—on Sunday accused Israel of attacking its shipment on Saturday in the Damascus International Airport.

The reports did not clarify how the alleged attack was carried out and what the contents of the shipment were, although it was defined as equipment intended for an entertainment event in the city of Aleppo.

Owj Arts and Media Organization is a media non-governmental organization in Iran, active in launching propaganda campaigns, film production and distribution.

In May 2016, the organization was mentioned in an article published by the Washington Post on an exhibition of caricatures that dealt with Holocaust denial. The article claimed that the connection between the organization and Iran's Revolutionary Guards is "an open secret," even though the organization publically denies this.

According to the organization's public relations department, which was cited in Yedioth Ahronoth, the operation proved that Israel was not attacking only military targets. These reports were not published by Arab media, but were quoted in the London-based Al-Araby Al-Jadeed.

Between Friday and Saturday, social networks in Arabic were filled with posts about an Israeli attack at Damascus International Airport, but it was not confirmed and received no coverage in major media outlets.

Previous attacks attributed to Israel at the airport were first reported as explosions in the area, which did not happen this time. In addition, Owj's claim has not been approved by news agencies affiliated with the Assad regime, which in the past reported every Israeli attack in the region, suspected or otherwise.