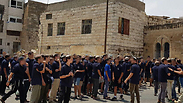 A little over a week has passed since some 120 settlers invaded the Machpelah House in Hebron, in protest of delays in the purchasing process of the building and objections by the High Court of Justice and the Civil Administration to them moving in before the legal issues surrounding the purchase are resolved.
Frenzied talks have been ongoing between the settlers and state authorities to try and find a solution since they entered the building, but now it seems these talks are gaining momentum, and based on legal opinions in the Prime Minister's Office and the Ministry of Defense, there is a legal possibility of allowing them to stay in the building.
Legal opinions so far have determined that allowing the families to remain in the building is illegal. However, new legal opinions in recent days point to the contrary—even to the point of allowing the families to stay during deliberations.
Kiryat Arba Mayor Malachi Levinger said he and his friends "congratulate the prime minister and the defense minister on their intention to find a solution that would allow the families to stay in the house that was lawfully acquired."
Levinger is part of a group of 15 families that entered the structure last Tuesday as part of purchase proceedings being conducted by the "Harhivi" (Expand) organization.
Settlers moved into the building without waiting for official approval from the Land Registration Committee, which has yet to determine the legality of the purchase deal.
Yossi Dagan, head of the Shomron Regional Council, is expected to arrive at the Machpelah House on Monday with his family. "I am asking the prime minister stop this injustice on the eve of Tisha B'Av, the day in which we commemorate the destruction of the Temple. Do not lend a hand to more destruction," said Dagan.
Following the arrival of the families, the area was declared a closed military zone. However, there is cautious optimism in settler groups that unlike previous occasions, this attempt at reclaiming the Machpaleh House will not end in a forced evacuation.
Meanwhile, the Ministry of Defense has refused a request by Coalition Chairman David Bitan to visit the contested site in Hebron.
Bitan angrily responded, "A Knesset member cannot visit Hebron? This is a scandal. I have the right to visit Hebron. I very much hope this is not a defensive and weak policy on the part of the Defense Ministry."